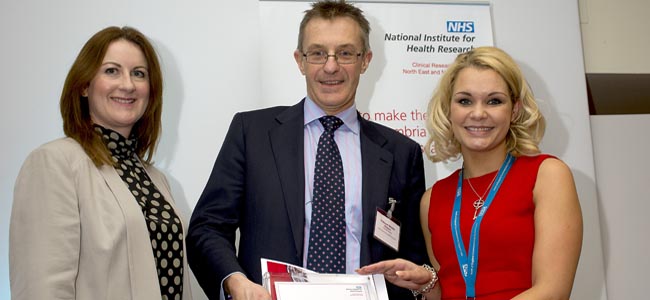 A Newton Aycliffe GP Practice has been awarded the Primary Care Practice of the Year Award by the Clinical Research Network (CRN) North East and North Cumbria, part of the National Institute for Health Research (NIHR).
The CRN: North East and North Cumbria NIHR Annual Awards 2014/15 took place at Sunderland AFC's Stadium of Light in February.
The award was presented to Jubilee Medical Group, based at Cobblers Hall in the town, to acknowledge the high level of active engagement in research portfolio studies in a GP Practice.
Additionally, the staff members in the practice are keen to involve their patients in research and actively promote research to their patient population.
This Practice has participated in seven Portfolio studies so far this year, recruiting 21 patients and has also been selected as a site for three commercial studies.
Practice GP Johann Brandmair said: "Jubilee welcomes opportunities to participate in complex clinical trials and we have found this brings real benefits to individual patients. We are grateful that our staff are so keen to get involved in research studies, even when this adds to their already busy workload.
"We are delighted to be recognised through the CRN award and will continue to engage with the Research and Development team at North of England Commissioning Support to provide support and feedback where necessary, for example undertaking feasibility reviews for new studies and attending local and regional events."
An example of a recent clinical research study undertaken by Jubilee Medical Group is the Diabetes Alliance Registry England (DARE) study which aims to establish an epidemiologically based sample of all patients with diabetes. By collecting the same non-invasive samples as per clinical care, tests can be
Pictured (above): Left – Lisa Westwood, Research Nurse, North of England Commissioning Support Middle – Professor Stephen Robson, Clinical Director of CRN: North East and North Cumbria Right – Laura Kirkbride, Research & Development Manager, North of England Commissioning Support.