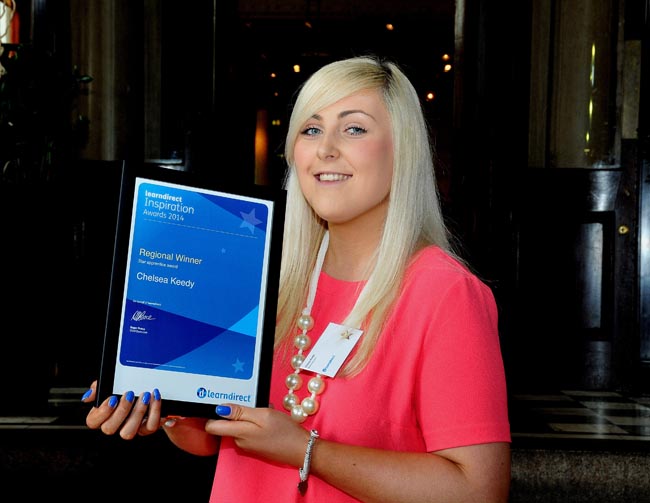 Newton Aycliffe girl Chelsea Keedy is celebrating after being crowned the winner at a regional ceremony for the learndirect Inspiration Awards.
Chelsea won the star apprentice award in the north region at a ceremony at The Palace Hotel in Manchester.
The 20-year-old has excelled during her Business Administration Apprenticeship, helping to recruit more than 30 young people onto courses through a presentation to her former school.
She chose the Apprenticeship route over university as it gave her real work experience which would allow her to shape her career and earn money.
She has now secured a permanent job as a team leader in a busy office. Her confidence has grown tremendously and she has now expressed interest in progressing her career further and becoming a tutor within the centre.
"The Apprenticeship with learndirect has been a great opportunity," said Chelsea.
"You're able to earn money whilst you're learning in a workplace environment so you get valuable transferable skills. I'd definitely recommend it to other people."
The learndirect Inspiration Awards celebrate the incredible learners going that extra mile to develop their skills, as well as the businesses and learndirect centres and staff supporting them.
The nominees include learners who have overcome personal difficulties to learn and have gone on to find a job or move up in their career, as well as businesses who have thrived as a result of improving the skills and motivation of their workforce through learndirect.
Regional winners will now go forward to a national judging panel, where they will compete with others from across England, Scotland and Wales for a national award.
The national winners will be announced at a national ceremony to be held in London on 11th June.
Paul Kilgour, Group Director of Apprenticeships at learndirect hosted the ceremony in Manchester.
He said: "The Inspiration Awards are a great opportunity for us to celebrate inspirational local people from all walks of life.
"The standard of nominations this year has been extremely high, showing the drive and determination of people in the north to improve their skills and make a change to their life.
"It was a privilege to meet all the finalists and hear the inspirational stories of the winners."
For more information about the learndirect Inspiration Awards visit www.learndirect.com/awards