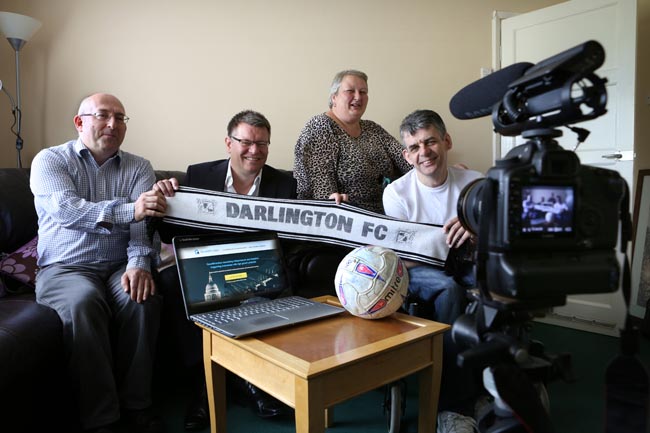 By Martin Walker
A Newton Aycliffe company is helping a well-known football fan's bid to create a film about his life using crowdfunding.
Darlington supporter Paul Hodgson was diagnosed with meningitis in childhood but his illness and a tough upbringing have never stopped him getting behind his team.
Now, he is using crowdfunding platform GrowthFunders, based on Aycliffe Business Park, to help realise his long-standing goal of turning his story – already a book, called Flipper's Side, co-authored with writer Mike Jarvie – into a film.
Actor and director Sean Cronin, whose on-screen credits include playing villains in James Bond and Harry Potter films, as well as The Mummy, is already on board to direct the film.
Bill Fellows, whose acting credits include Downton Abbey and Holby City and voice of Frank's Flooring's "I love carpets me!" adverts, stars as Paul's father in a concept trailer which has been made with the support of a team of colleagues to help investors visualise the film.
Growthfunders is the North of England's first online equity crowdfunding platform, giving businesses the opportunity to access a wide range of investors.
PIMM Productions, the company Paul has established and which has already shown one short film, An Unfortunate Women, at this year's Cannes Film Festival, is seeking investment of £692,000 to help make the film, which has a working title of "Acceptance".
It is hoped that this money will help to bring in a supportive lead actor to boost the kudos of the film.
Paul, who lives in Darlington and currently works for the Department of Work and Pensions, said: "Making a film of my life has been a long-standing aim of mine.
"In the late 90s, I wrote my book and it was very well received, and now I have a great team working with me on Acceptance. By using GrowthFunders,
"I hope to get the crowd involved, and I hope it won't only be Darlington fans who invest.
"I have made a lot of friends supporting the Quakers up and down the country and this opens involvement in the film up to not only these people but anybody, whether they like football or not, and it is a great opportunity to get this film made."
Sean, who became interested in directing whilst acting, and then studied at the New York Film School, originally teamed up with PIMM Productions on their first film, An Unfortunate Woman.
He said: "Acceptance is a film which, to me, has the feel of something like My Left Foot, and I think that it will appeal to actors who would normally command fees many times what our overall budget will be.
"I am very excited about Acceptance and its chances of doing well. It's a great story, with humour, sadness and a gritty reality that I think will have broad appeal."
GrowthFunders has been launched to match ambitious entrepreneurs with great business ideas to a range of investors to create and grow exciting businesses.
The site allows entrepreneurs leading businesses with high growth potential to garner support and raise capital online from a wide range of investors, including angel networks and early stage venture capitalists (VCs).
GrowthFunders also opens up access to this exciting asset class to a wider audience of suitably-qualified online angels, or the eponymous "crowd", who can experience investing alongside more experienced investors.
For more information, or to register, visit www.growthfunders.com
Pictured above (left to right): Mike Jarvie, director of PIMM Productions, Craig Peterson, director of Growth Capital Ventures, Margaret Collins, director of PIMM Productions and Paul Hodgson.