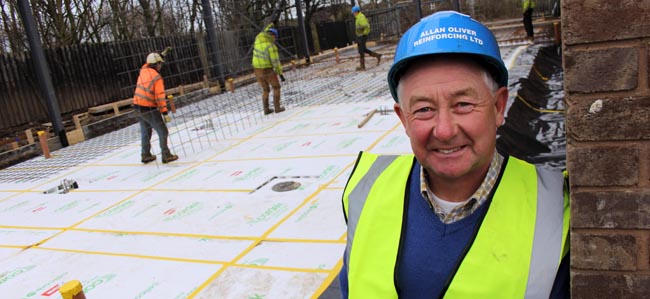 By Martin Walker
A Newton Aycliffe concrete reinforcing company reckons the construction industry is well on the mend after seeing a sharp rise in enquiries and contract wins.
After seeing out a depressing lull in business, Allan Oliver Reinforcing is currently working on 10 projects simultaneously across the North-East, while the phone is ringing a lot more regularly.
Allan Oliver – manager of Newton Aycliffe's Northern League football club – started the company as a sole trader 23 years ago and turned limited five years later.
He says the recession is something he's never experienced before, but is convinced it's on the upturn.
Allan has just won a 50-week, £550,000 contract from construction firm Sir Robert McAlpine, involving 1,800 tonnes of reinforcement and foundations at a Teesside chemical plant.
The contract started in early February and is the first of three phases.
His firm, consisting of 17 full-time staff and several more contractors, is also juggling nine other smaller contracts for various North-East civil engineering companies.
Currently, Allan Oliver Reinforcing is also working on a housing project for Wearmouth Construction in Stockton, a sewerage treatment plant for Bam Nutall in Morpeth as well as various schools throughout the North-East for Sir Robert McAlpine.
Allan says it makes a refreshing change after a difficult two-year period.
"There's probably about a dozen companies who use us all the time, with the majority of our work coming from repeat business," he says. "That shows we perform on time and within budget.
"So I always felt that, when the industry started to recover, the work would come back again, and that's been the case up to now.
"We had to make sure we came out at the other side, because if you're ready to go again in the recovery, you'd probably do well.
"The only trouble now is firms ring you and they want you straight away. I sometimes think they think we have men hiding under the stairs ready to come out to work when it's busy!"
Allan says the tide started to turn about six months ago.
"I'd say it started to pick up in the last six months, to a point now where to number of enquiries alone has gone up to two or three a week," he says.
"The construction industry is the first one to be hit in any depression. Money on building just stops. But on the other side of the coin, it's the first one to pick up.
"Luckily I have a good bunch of lads, and morale is good. I always find if you treat your staff right, they'll repay you with hard work."
If running his business isn't enough to turn Allan's hair grey – what's left of it – he likes to spend his spare time running Newton Aycliffe FC.
Allan has guided his club through several promotions in recent years to the Northern League first division for the first time in the club's history. And all on a shoe-string budget.
"I couldn't say it's a release exactly, the way I get wound up during games!" he jokes.
"But it is a big passion of mine. We've built something special at Aycliffe and I'd love to see other businesses just have a look at our ground to see the set-up.
"We're indebted some businesses on Aycliffe Business Park, and we wouldn't be where we are today with out John Finley from Finley Structures. Others have played their part, too, but we'd love to see more get involved somehow."
● To contact Allan, call him on 07976 780369.