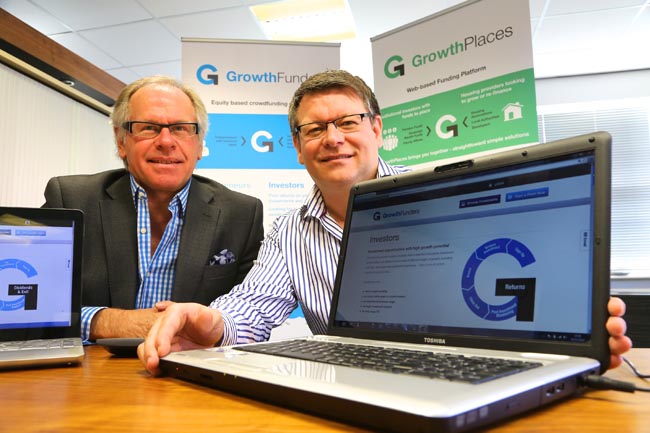 Growth Capital Ventures, the financial services and technology firm behind GrowthFunders, is expanding.
Although the first of its kind in the North East, the Newton Aycliffe-based business operates in the thriving alternative finance sector and is growing rapidly.
Now, Growth Capital Ventures is set to use its own platform to raise capital and fund further expansion.
Formed in July 2013, Growth Capital Ventures launched its first platform, an equity crowdfunding and co-investment marketplace GrowthFunders, earlier this year.
In just a short space of time, the platform has 90 businesses in the pipeline who will be looking to raise in excess of £20m over the course of the next 18 months and an investor base that is growing day-by-day.
GrowthFunders works to streamline both the fundraising and investment processes, which it does by enabling entrepreneurs to raise capital online and investors to invest directly into businesses.
Chief operating officer Craig Peterson said: "The financial services market is changing beyond all recognition and growing at a rapid pace.
"The growth of financial technology – or FinTech, as it's known – has been huge in the last year and it is growing faster in the UK than in any other market in the world.
"Advances in technology mean that new and disruptive businesses are now entering the financial services marketplace with something worthwhile to offer: innovative, streamlined and cost-effective solutions that are changing the face of the funding and investment marketplace."
Growth Capital Ventures aims to raise £150,000, which will allow the firm to build upon the launch of GrowthFunders with the introduction of further platforms, which will focus upon infrastructure investment, peer to peer lending and matching fund promoters with investors, respectively.
GrowthFunders was launched to match ambitious entrepreneurs with unique business ideas to a range of investors to create and grow innovative businesses.
The site allows entrepreneurs to garner support and raise capital online from a wide range of investors, including angel networks and early stage venture capitalists (VCs).
GrowthFunders also opens up access to this growing asset class to a wider audience of suitably-qualified online angels, or the eponymous "crowd", who can experience investing alongside more experienced investors.
For more information visit www.growthfunders.com