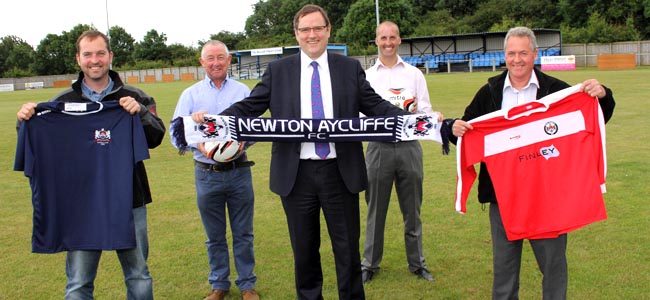 By Martin Walker
MP Phil Wilson and local businesses are backing a campaign which will see one lucky firm win the naming rights to Newton Aycliffe FC's ground.
Aycliffe, who currently play in the Ebac Northern League first division, want to increase links with the local business community and has drawn up a range of new options for the 2014-15 season.
And its stadium, one of the Northern League's youngest grounds, is up for grabs to firms who buy into the scheme.
Businesses are asked to buy a 'ticket' for just £100, with the winner being drawn at random and getting exclusive naming rights to Moore Lane Park.
There will also be runner-up prizes of pitchside perimeter advertising boards (worth £300) as well as match and matchball sponsorship packages worth up to £100.
It means every business which buys a ticket will win something in return for its investment.
The initiative is being backed by John Finley, Managing Director of Aycliffe firm Finley Structures, which earlier this year won a high-profile, 2,000-tonne contract from Shepherd Construction to work on Hitachi Rail Europe's £82m train-building factory on Aycliffe Business Park.
Mr Finley – pictured above (right) with Phil Wilson, SCH Site Services managing director Gary Finley and Allan Oliver and Dan Lewis from the club – provided the steel for a new stand at Moore Lane Park three years ago which enabled the club to gain promotion to the Northern League first division.
He said: "I think this is a fantastic initiative by Newton Aycliffe FC and a great way for businesses to support their local football club, but also to get something for their money at the same time."
The 2014-15 season will be Aycliffe's fourth consecutive campaign in the Ebac Northern League first division.
The club's President Phil Wilson, the MP for Sedgefield, said: "From a business point of view this is a no-brainer.
"We're asking for firms to donate what is a nominal amount of money, but they get something in return for that investment regardless of whether they win the rights to the ground or not.
"But if they win it, of course, it's a fantastic opportunity for local firms to increase the awareness of their company to a big regional market."
Another Aycliffe firm, Ebac, the manufacturers of dehumidifiers and chest freezers, has seen the benefits of investing in local sport by sponsoring the Northern League.
The naming rights to Aycliffe's ground would bring positive and regular coverage in the local media as well other additional spin-offs.
Firms who take out shirt sponsorship and pitchside perimeter advertising boards at Aycliffe are automatically entered into the stadium rebranding draw.
To get involved with the club, call General Manager Dan Lewis on 07581 784726 or email [email protected] or Aycliffe Today editor Martin Walker on 07826 525907, email [email protected]