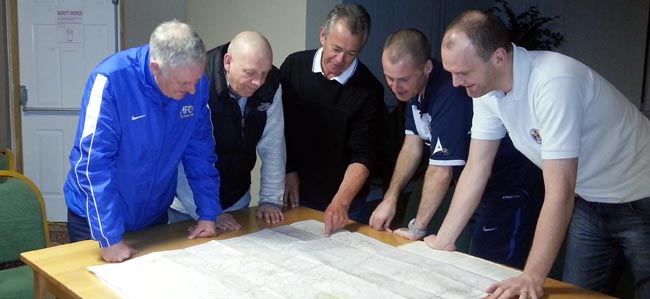 In a season that can be best described as 'up and down', Newton Aycliffe FC are gearing themselves up for the biggest climb of the season.
However, rather than the players who will be facing the next challenge, those gearing up for this one are the committee members. And it's not an on-field battle they are facing, as they are seeking to scale Scafell Pike, the largest mountain in England.
It is the latest in a series of innovative fundraising challenges devised by the resourceful committee. "we've done sponsored walks before" explained organiser and Secretary Stephen Cunliffe, "so we thought we wanted something to be a real challenge. And what bigger challenge than the highest peak in England".
Stephen is being joined on the walk by Chairman Gary Farley, as well as fellow committee members Dan Lewis, Paul McGeary, Barry Waters and John Gaskarth.
"We're looking forward to it", explained Cunliffe. "We've a range of experience, Barry and I are experienced climbers, Dan and Paul are reasonably active, and even Gary has done some training. We will wait and see how John gets on!!"
The walk is due to take place on Saturday 5th April, the day after the team host Spennymoor Town. As the Towns only semi professional team, the dedicated committee are always looking for ways to generate income into the Club. And they are keen to hear from any local companies or individuals who may wish to sponsor the event. No amount will be too small, and will help spur the lads on to complete what will be a very tough challenge.
For more details of the event, or to arrange sponsorships, Stephen can be contacted on [email protected] or on 07872985501.