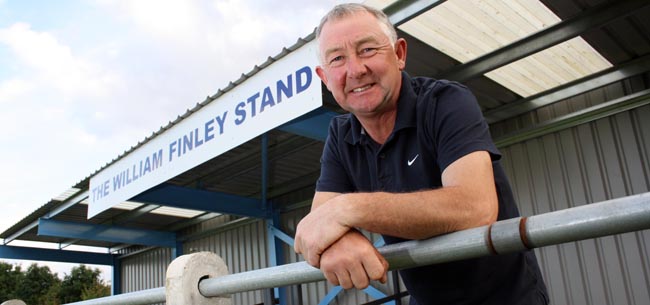 By Martin Walker
Newton Aycliffe FC chairman Allan Oliver is appealing to the club's fans to get behind the club in the run-in to the season.
The Newtonians progressed to the semi-finals of the League Cup with a 2-1 win at Washington on Tuesday night.
But Aycliffe are hovering just two places and eight points above the Northern League first division relegation zone.
With eight league games to go, four of which are at home, Oliver is asking for the club's lapsed fans to show their support.
He told Aycliffe Today: "We appreciate it's been another difficult season.
"We're in the results business and it's the oldest cliche in the game, but everyone wants to watch a winning team.
"All I'm asking is that they give us a chance and come back for the last few games of the season.
"A League Cup semi-final will be a nice distraction and if we can get to the final that would be a great occasion to capture the imagination of supporters again.
"But we need more fans to come and get behind the lads. It makes a huge difference when we have an extra 40 or 50 people on the gate and a better atmosphere, which helps the lads."
Oliver says the immediate aim is for Aycliffe to retain their top-flight status so they can enjoy what would be a fifth successive season in the Northern League first division.
Former West Auckland manager Peter Dixon was brought in last October with the simple objective of staying up.
And Oliver said: "Peter's doing a great job. Before he came in we looked like relegation fodder in every game, there was only one way we were going.
"Peter's primary job was to retain first division status, which I think he'll do comfortably, then we'll see what happens after that.
"He's had to change things around but his record in cups is well-known and if he could take us to a cup final, that'd be a very welcome bonus.
"If we can beat a full strength Marske side then we're capable of beating anyone in this league."
Aycliffe are at home to Durham City at the Aux Audio Stadium at Moore Lane Park this Saturday, kick-off 3pm.
LEAGUE FIXTURES
Sat 7th March: Durham (H) 3pm
Weds 11th March: Bedlington Terriers (A) 7.30pm
Sat 14th March: Dunston UTS (A) 3pm
Tues 17th March: Consett (H) 7.30pm
Sat 21st March: Morpeth Town (H) 3pm
Sat 28th March: Guisborough Town (A) 3pm
Sat 4th April: North Shields (H) 3pm
Sat 11th April: Ashington (A) 3pm