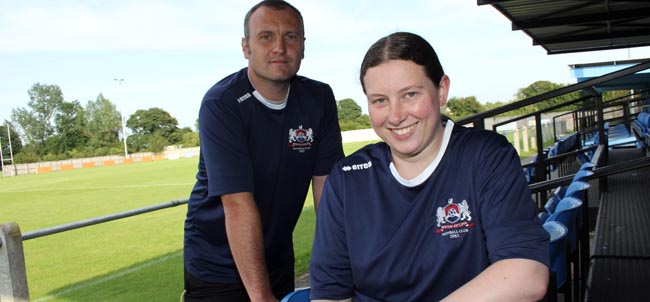 Newton Aycliffe FC boss Dan Mellanby has added a new member to his backroom team with the appointment of physio Claire Boyd.
The Aycliffe boss moved quickly to fill the void left by the departure of Kevan Spanton at the end of last season.
Newtonian Claire, who has an Msc in Sports Therapy from Teesside University, joins the club having fulfilled a similar position at Middlesbrough Rugby Club for the last six years.
Mellanby said: "Claire is highly qualified, and having worked for a number of years at Middlesbrough Rugby Club, she has just the sort of experience we are looking for."
And in keeping with Mellanby's policy of looking to recruit local players, it is an added bonus that Claire hails from Aycliffe.
"We want the people of Aycliffe to buy into what we are trying to achieve here," he added.
"We want to give them a competitive Northern League Football Club, and to feel it really does represent Newton Aycliffe and its people."
Download Aycliffe FC's sponsorship package options for the 2014-15 season here: NAFC marketing 2014-15