A Newton Aycliffe family say they're relieved to be home after their two-week Tunisian holiday was cut short following last Friday's terrorist attacks.
Shaun and Loraine Saunders, and their 10-year-old daughter Kai, were staying at the Marhaba Salem hotel in Sousse, less than a mile away from the Marhaba Imperial, when 38 tourists were shot dead by gunman Seifeddine Rezgui.
They were just two days into a special holiday to celebrate their 17th wedding anniversary.
But they told Aycliffe Today they're "the lucky ones" – and are thinking of those who lost their lives at the popular holiday resort.
Shaun and Loraine, both 44, and Kai were actually on a pirate ship in the Mediterranean Sea when the attack happened last Friday morning.
What followed was blind panic.
"We were just coming back into the port and that's when everyone's phones started going off," explains Shaun, who works as a machine operator at Ineos on Aycliffe Business Park.
"A Scottish girl we were with had 30 missed calls from her Mam, so she called her back and that was the first we knew about it.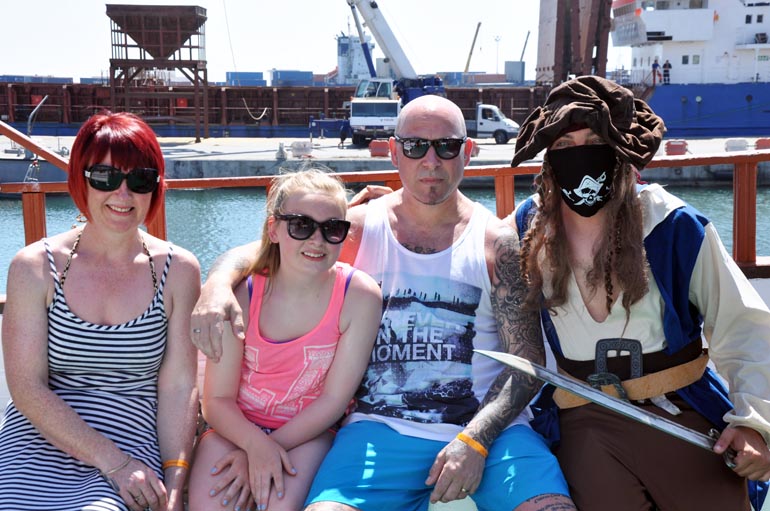 The Saunders family were on a pirate ship just off the Tunisian coast when the attacks happened.
"We were told it was the Marhaba hotel and we just panicked. It wasn't until later we found out it was the Marhaba Imperial, and not the Marhaba Salem where we were staying.
"We didn't have a clue what to do. We didn't know whether to stay where we were or get in a taxi and go back to the hotel.
"The lad on the boat said 'go back to your hotel, you're not safe here'.
"So we jumped in the taxi and as we were going through the streets we saw armed police and the army, and we just thought 'what the hell is going on'.
"We'd heard there was an attack but we didn't know details, so we didn't know if we were making the right decision.
"We got the hotel, the gates were closed and security came out and started searching the taxi. Then they pushed us into the hotel.
"It was frightening."
Loraine, who runs her own domestic cleaning and ironing business, said: "If we knew at the time it was further down the beach we probably wouldn't have been so bad, but we were in a blind panic.
"We got into the hotel lobby and it was like a tin of sardines, there were girls crying and staff trying to move them upstairs so others didn't panic.
"It was chaos. We were told to stay in the lobby and nobody could get a reception on their phones so people at home were panicking.
"We didn't know where the attack had happened and people started talking about what to do if it happened to us.
"We just wanted out of there, and it took two days to get a flight arranged.
"They advised us not to leave the hotel. There was armed police front and back. The next day we felt safe around the pool, but you couldn't go out.
"Kai didn't understand why she couldn't go on to the beach. We told her it just wasn't safe but we couldn't tell her too much at the same time."
Shaun says he feels for the locals in Sousse, who will almost certainly lose their jobs.
"The local people just kept apologising. They couldn't do enough for us," he added.
"Tourism makes up 30% of the Tunisian economy, so it's going to cause them some damage."
The call finally came on Sunday evening – "you're going home".
"But we were on tenterhooks going from the hotel to the airport," said Shaun.
"The locals were saying the terrorist had been talking to tourists in the days leading up to it to find out where the Brits were, and we're driving through the streets, looking at the locals and you think all sorts.
"It was only 35 minutes to the airport but it felt like a lifetime. The best feeling in the world was when they shut that plane door."
The couple say it was just "sheer relief" to get back on the plane and back home – even though they were heading to Manchester Airport, and their car was at Leeds/Bradford.
Shaun said: "The pilot himself stood and welcomed all passengers on to the plane then said a few words over the PA system, it was quite emotional.
"He said 'we've come to take you home'. I'm not an emotional person but I was nearly in tears with relief.
"Having to get from Manchester to Leeds was the least of our worries."
Loraine added: "When we landed in Manchester, there was a standing ovation. There was just sheer relief when we got on home soil. It felt like we could breath.
"I don't think I've ever felt as happy to get home from a holiday, especially given it was cut so short.
"I'm just thinking of the poor families who've lost loved ones, and to the heroes who did everything to protect their loved ones."
The Saunders have been told by holiday firm Thomson they will be fully refunded for nine days of their 14-day break.
Shaun added: "To be fair, what they did to get everyone home and the way they were with us on the journey home was phenomenal.
"I think they could have dealt with things better in the hotel, but nobody is trained to deal with those situations.
"Maybe at the time we were angry, but not so much looking back now we're home."
• The first bodies of some of the British tourists shot dead in the Tunisia beach attack arrived back in the UK on Wednesday.
Eight coffins were flown from Tunis to Brize Norton, Oxfordshire, on an RAF C17 and taken off the plane one by one.
Thirty of the 38 victims are thought to have been British and the repatriation of the bodies is likely to take several days, with inquests to follow.
A minute's silence will be observed across the country at noon on Friday in memory of the victims.
• Tunisian authorities have arrested several people on suspicion of helping gunman Seifeddine Rezgui and at least two other suspects are wanted by police.
The 23-year-old student, who had links to the Islamic State jihadist group, was shot dead by police after the killings on the beach last Friday.
Security sources say he is thought to have been trained in Libya at the same time as two men behind the Bardo museum attack in Tunis that left 22 people dead in March.