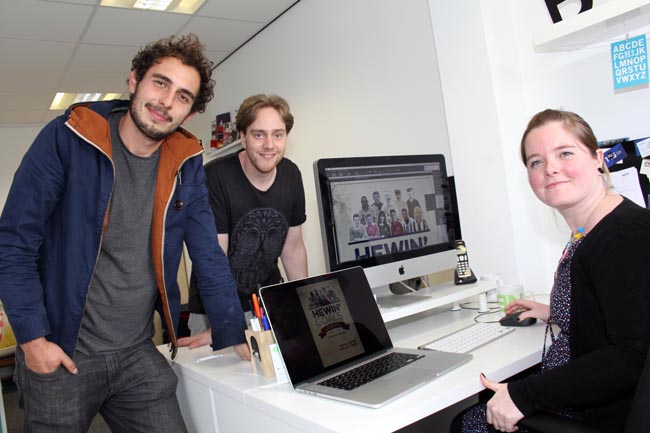 By Zoe Skerrett
Two local businesses have joined together to commemorate the 125th anniversary of the Northern League.
Newly-formed Backscratch Theatre has been asked to by the league to create a celebratory series of shows, aptly named Hewin' Goals.
Backscratch have enlisted the help of Sarah Carlton, from Aycliffe design agency Neon, to put together their promotional flyers and marketing material in the run up to the shows which begin in October 2014.
Sarah works for a number of local businesses, including Mantis Media, Wilsonart, Saks Apprenticeships, St John's School , YMCA, Salvation Army and Darlington Football Club.
"It's great to be working on a project like this," said Sarah.
"The Northern League is steeped in history and it's a great opportunity for me to get involved in a project which has a big local interest with football supporters."
Backscratch consists of four writers, musicians and performers, Jack Burton, Tom Burton, Mike Dayes and Laura Emerson, and with the help of Joseph Robson are currently working on Hewin' Goals – a play on words from the coal mining term "Hewin' Coals".
Previously, Backscratch have put on shows such as Any Good Thing, a humorous 19th century style show about North East mining, and Mummers Play, a seasonal folk tale that originally dates back to the 18th century.
With four shows taking place in Newton Aycliffe, Backscratch are a newly-formed theatre company situated on Aycliffe Business Park and will be directing, writing and acting in the Northern League inspired show, which will tell the history and highlights from the past 125 years.
With a fun and interactive show that's suitable for all the family, Sarah's designs have a vintage touch to them, too, with a tea-stained effect on the paper and a stamped font.
Pictures of iconic footballers who came from the Northern League are displayed like a family portrait across the top to show how football has changed, improved and transformed over the years.
It's hoped the Aycliffe shows will be subsidised by Great Aycliffe and Middridge Partnership (GAMP) and the Heritage Lottery, which will mean the performances in Aycliffe, starting on 6th October, will be free.
They're due to be held at Woodham Community Centre, the Youth Centre, Greenfield School and one more location to be confirmed soon.
To discuss your design needs, give Sarah a call on 01325 520 462 or email [email protected]
More details about Backscratch Theatre can be found on www.backscratchtheatre.wordpress.com