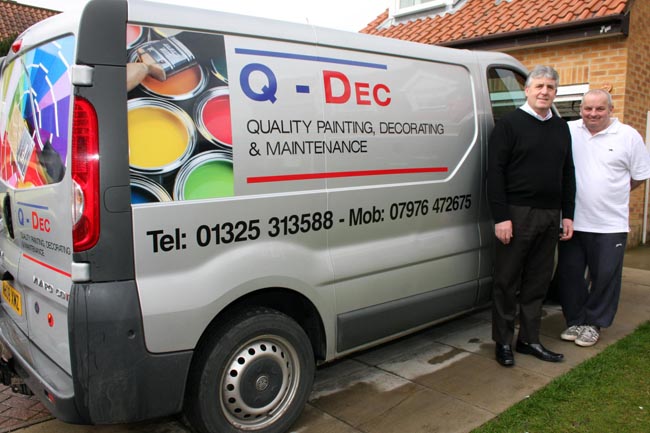 By Rachel Wright
Quality, expertise and customer focus are the main forces that have brought about a new and thriving business which is ready to build upon years of skill and knowledge.
Director Chris Leach is the influence behind Q-Dec Quality Painting, Decorating and Maintenance, which operates from Middridge, Newton Aycliffe.
Chris and his team have more than 70 years' experience between them in the industry, and when it comes to a quality service they really are the team to turn to.
Chris said: "For me it's all about quality and having the personal touch with customers so we can understand exactly what they need, allowing us to deliver a quality job.
"In my previous job it was more about profit than the customer needs and I really want to bring the focus on the customer back, client satisfaction is my main motivator in delivering a quality job and this became my real motivation for starting this business."
Chris's reputation for quality has already earned him some impressive contracts and customers in the region, including St Chad's College of Durham University, Bowes Museum, Bishop Auckland Hospital, Robinsons Estate Agents, Cummins Engines UK and Lingfield Point in Darlington.
Chris said: "It's all in the planning and it is so important to us to take the time to talk with our customers and listen to them and to identify what their exact needs are.
"We also work with several paint manufacturers to come up with the right product for the job. Depending on the surface and specification needed we will find a solution for the customer and this often helps to manage their maintenance costs.
"Being based in Newton Aycliffe I am keen to work with businesses on the park, and support them within their budgets."
Colleague Paul added: "With our combined years of knowledge we are also able to pick our work force and get the best team possible, all our decorators are time-served and hand picked by us.We are confident of delivering quality every time."
For further information on a quality and cost effective service please call Chris at Q-Dec on 01325 313588 or 07976 472675, or email [email protected]
● Above: Chris Leach and Paul Smith with the colourful Q-Dec van in Newton Aycliffe.