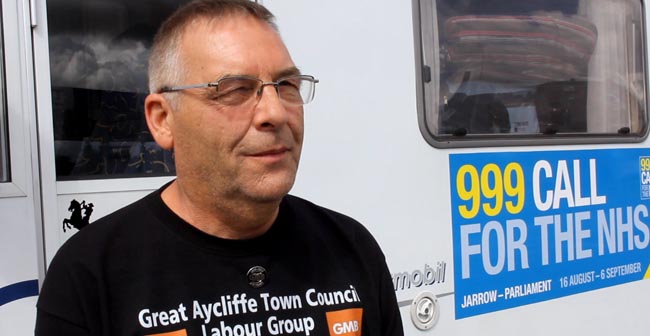 By Martin Walker
A Newton Aycliffe councillor has committed to trekking the whole 300 miles of the Jarrow-Westminster People's March.
Neil Collinson, a former NHS worker and Labour councillor for Great Aycliffe Town Council, has joined Aycliffe activist Craig Farlow on the march which is getting national headlines.
A group of mothers from Darlington are recreating the 1936 Jarrow March against poverty and unemployment in the Great Depression.
About 500 people gathered at Jarrow Town Hall last Saturday as campaigners set off on the People's March for the NHS, which is carrying a petition in support of saving a walk-in facility at Palmer Community Hospital, in Jarrow, from closure.
Forty people are expected to complete the whole 300-mile stretch from Jarrow to Westminster, with campaigners expected to arrive in Westminster on 6th September.
See our Video Feature of the 999 Call for NHS passing through Aycliffe this week
Cllr Collinson told Aycliffe Today: "Hopefully people have been aware of what's going on because that's what we're trying to do.
"I think because we're going to the NHS and we go to the ambulance service and we go to A&E we get treated for nothing.
"People don't think things are happening so we're trying to make them aware that things are happening."
Mr Farlow, from Aycliffe, added: "It's about making the general public aware of the conservative government's agenda which is that outright privatisation of all services within the NHS and an introduction of an insurance based health system which people can't afford.
"You just need to look at the system they have in America, where 63 million people don't have insurance because they either can't afford it they have a pre existing condition which the insurance companies won't cover.
"In a civilised country you can't allow that to happen and that's our purpose, to stop it happening and to tell the government that British people won't stand for it."
Click here to see our Video Feature.