The Stiller family isn't unfamiliar with the pages of Aycliffe Today Business.
Since launching the magazine more than six years ago, we've featured around 150 different companies of varying sizes from around this vibrant business park.
Stiller Warehousing and Distribution – one of Aycliffe's oldest and best-known residents – featured on the front cover of our second issue, around this time in 2013.
Managing director Paul was in the process of handing the reins to son Matthew, who has since become the third-generation of the Stiller family to lead the business.
Back then, as I sat in Paul's old office, a number of framed archive images portrayed halcyon days of the 50s and 60s – the firm's first truck and a five-year-old Paul Stiller licking an ice cream among the historical gallery.
But Stiller's business and premises, since that feature, have changed beyond recognition.
Fast-forward six years, I'm now sat with Matthew Stiller, the managing director since 2017, in an impressive training room situated within the firm's new state-of-the-art distribution centre.
It may be futuristic, but the firm's history remains at its core – and those images are still there, wonderfully displayed in a new pictorial timeline.
With the story set to continue, the final image shows Matthew receiving the 2017 Company of the Year award at Aycliffe Business Park's Make Your Mark awards last year.
It was a proud moment for Stiller, which has been based on Aycliffe Business Park for 18 years.
Matthew said: "When young local people in Teesside and County Durham are looking to establish a career for themselves, it's very easy for them to go and sign-up with the very structured career programmes of large multi-nationals in Newcastle or Leeds.
"But sometimes you only have to look outside your front door to begin a great career. There are many quality employers within walking distance of where most local people live, particularly in Newton Aycliffe.
"Awards are an excellent vehicle for businesses trying to build their profile locally as an employer of choice, and even just to be shortlisted in a category will do that."
Stiller was formed by former prisoner of war veteran Gunter Stiller in 1954 and he handed the company to his son Paul in 1985, who led the firm for 32 years and guided it through history's worst-ever recession.
The firm, which opened its new £2m freight distribution centre last year, pipped leading shower manufacturer Roman and car parts manufacturer Arlington Automotive to win the Aycliffe Company of the Year award in 2017.
"There's been a lot of very hard work done by a lot of people at Stiller over the last few years and it's great to have been able to share in some of the success of so many companies on the business park and in the North-East," added Matthew.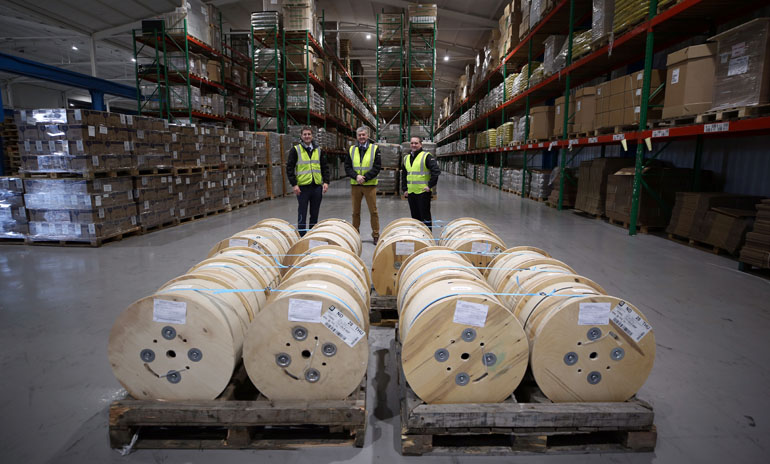 "When you work in the high-pressure environment of the logistics industry, everything happens so quickly, with next day delivery and all the work and pressures associated with that, so you need to go about your day with good humour and good nature to enjoy it, but also to marry that up with pragmatic thinking.
"That helps to build a strong team and get the job done. Winning this award is a special moment for the company and we're absolutely thrilled."
Stiller's award was handed over by Business Durham managing director Brian Archer.
Mr Archer said: "These awards really demonstrate that Aycliffe Business Park is somewhere that is making its mark.
"The latest developments at Forrest Park will see the business park continue to grow and ensure not only its importance to the local economy, but its regional and national significance.
"Stiller is a fantastic example of a company that has grown and thrived in County Durham, showing great resilience in the highly competitive logistics sector."
Stiller followed Tekmar Energy, Finley Structures and PWS as previous winners of the Company of the Year category of the Make Your Mark awards.
Now in its fifth year, Make Your Mark will again single out the business park's shining stars and recognise outstanding performances from the last year during a special event at the Xcel Centre, which is being held on Wednesday May 1.
Businesses are now invited to enter the nine categories available, including Company of the Year, Engineering & Manufacturing, Apprenticeships & Training, Employer of the Year, Export, Apprentice, Newcomer, Service Business and Small Business. As usual, an independent panel of judges will decide on the shortlists and eventual winners.
A limited number of sponsorship categories are still remaining for firms looking to support Make Your Mark while gaining widespread recognition and profile across the park.
ABPC chair Kerina Clark said: "Make Your Mark is now firmly the annual event for Aycliffe Business Park and we're excited to be looking forward to our fifth consecutive event.
"Make Your Mark has already highlighted lots of the brilliant success stories from around Aycliffe Business Park – including some of the lesser-known businesses as well as the high-profile firms – and we're hoping this year's event will unearth yet more of our hidden gems.
"It's always a fantastic evening – one huge, collective celebration of our business park – and we hope residents and businesses will come together, as they always do, to support it."
The deadline to enter the 2018/19 Make Your Mark is Friday April 5, and businesses can enter easily and quickly online at www.aycliffebusinesspark.co.uk/awards
• To ask for more details email [email protected]
ENTER MAKE YOUR MARK
There are nine categories in this year's Make Your Mark awards.
They are:
• Apprentice of the Year
• Apprenticeships & Training
• Company of the Year
• Employer
• Engineering & Manufacturing
• Export
• Newcomer
• Service Business
• Small Business
The deadline to enter the 2018/19 Make Your Mark is Friday April 5, and businesses can enter easily and quickly online at www.aycliffebusinesspark.co.uk/awards
• To ask for more details email [email protected]ffeawards.co.uk