A Newton Aycliffe cleaning company is celebrating 10 years in business by appointing two senior managers as it looks to create new jobs and increase turnover.
Diamond Commercial Cleaning, based at Technology Court on Aycliffe Business Park, was launched on 1st October 2005 with a modest team of 12 and a client base of six companies.
It has since grown significantly, with turnover more than doubling to £400,000 as the firm's team of 53 cleans for 80 clients across the whole of the North East.
Now managing director Beverley Wardrop wants to drive the company forward after promoting two of her cleaners to senior area manager positions, as part of long-term plans to create 10 new jobs and boost turnover to the £500k-mark.
"We're very proud of the fact we've reached the 10-year milestone, which is testament to the professional service we provide to more than 80 clients," said Beverley, from Darlington.
"I decided to set the company up in 2005 when I persuaded my father, Stan Dixon, who was running his own contract flooring company at the time, to join me as director and company secretary.
"We started out with 12 cleaners and we've built the company up through sheer hard work. We now have 53 cleaners with us and clients from North Yorkshire up to Newcastle.
"We've earned ourselves an excellent reputation in commercial cleaning, from small offices up to large factories, building our business on customer service and high standards.
Beverley says Diamond Commercial Cleaning recovered from a major blow during the recession in 2010, when she lost nearly half of her business.
She explains: "One of our clients moved to India and at the same time one of our big contracts went to the Netherlands
"So overnight we lost about £120,000 a year, which was a huge chunk – more than half of the business – at that time, which was extremely tough.
"But we managed to pull it back bit-by-bit, and since that low our turnover has trebled to £400,000."
Beverley now aims to develop the company even further after promoting both Carol Milward and Dawn King from cleaning supervisors to senior area managers.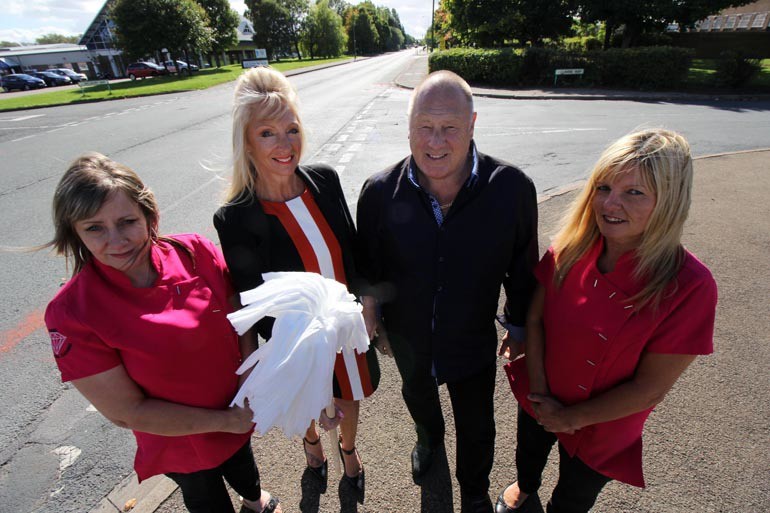 Diamond Commercial Cleaning managing director Beverley Wardrop with company secretary Stan Dixon and senior area managers Carol Milward (left) and Dawn King (right).
She added: "As most business owners will tell you, it's very difficult to let go of things and I've always wanted to keep a handle on everything.
"But I've recognised that I need to do that if I want the business to grow, so Carol and Dawn will be looking after key accounts as well as the staff we have with clients while I look to develop other areas of the business.
"The aim is to take on another 10 cleaners over the next 12 months and increase turnover by another 25%."
Diamond Commercial Cleaning works with clients in Newton Aycliffe, Darlington, Bishop Auckland, Durham, Newcastle, Teesside and North Yorkshire.
It works from small offices which requires a couple of hours a week, right up to large warehouses, medical centres, engineering and manufacturing companies.
The firm also works with a leading North East aviation company, and is also on the NHS supplier list, working for the breast clinic and doctor's surgery at the Pioneering Care Partnership in Newton Aycliffe.
Diamond also works with clients on an ad-hoc basis, covering holidays and long-term absences.
Beverley added: "Our clients can expect exceptional standards of cleaning.
"All our work is carried out to a high standard with quality and health and safety audits carried out on a regular basis, which is why most of our business comes through recommendations."
Diamond Commercial Cleaning is NHS approved and all work is COSHH assessed. Managers and supervisors are trained in first aid and staff are trained to NVQ level 2.
• Contact Diamond Commercial Cleaning today on 01325 301000, by email to [email protected] or go to www.dccne.co.uk