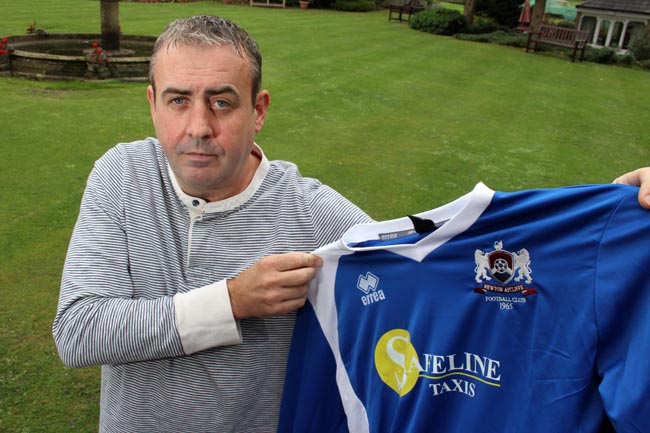 By Martin Walker
Peter Dixon insists Newton Aycliffe could be a top-four side in the Northern League – if they had the right support.
The 46-year-old took over at Aycliffe on Saturday night just a few weeks after leaving West Auckland – the club he'd guided to Wembley twice in the FA Vase.
His first game in charge was at home to Penrith on Wednesday night.
Dixon is aware of the type of crowds Aycliffe used to get during their second division promotion-winning campaign and first season in the top flight, averaging well over 200 and up to 300 for some of the more high-profile fixtures.
In the second part of our Video Interview with Dixon, he told Aycliffe Today: "I'm aware that it's a big town, and I'm aware that it's a football town.
"If we can get more interest from the supporters, then everything else will take care of itself.
"There's no magic fix and there are no guarantees in football. The aim this season is to maintain first division status, then we'll sit down at the end of the season and see where we go from there.
"A lot will depend on what happens off the pitch, in terms of people coming to watch us and getting the town excited about their football team again.
"If we could get the fan base up to the sort of numbers we were getting a few years ago, up towards the 300 mark, then there's no reason why we couldn't be up there challenging and be atop four side.
"Nothing happens overnight and it would take a couple of years to do that."
Dixon has already added four players to Aycliffe's squad.
Paul Garthwaite, Stuart Banks and Ashley Coffey have all joined the club after being released by West, while Blyth Spartans midfielder Ryan Cummins has joined Aycliffe on loan.
Dixon said: "I've watched the last couple of Aycliffe games and there's a spine of a team there which is good.
"Everyone who's currently there will be given a chance to stay if they want to stay.
"But there will be an influx of new blood and we'll see where that takes us."
Click here to see our exclusive interview the new manager
DIXON SIGNS FOUR AS NEW ERA DAWNS
PETER DIXON APPOINTED AYCLIFFE BOSS
'GETTING DIXON IS MAJOR COUP' – OLIVER
WHAT A RESULT FOR AYCLIFFE FC!