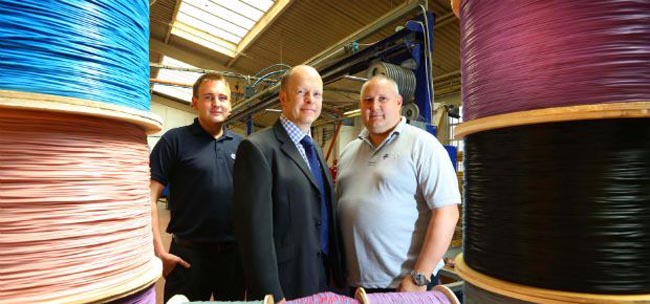 A Newton Aycliffe cable manufacturer has received an investment of an undisclosed sum from the Finance For Business North East Growth Fund.
ATAG Cable Solutions designs, manufactures, tests and supplies a wide range of high quality, high performance reliable cables for all types of industries, with particular expertise in the electronics, oil and gas, marine and energy sectors.
Most of the Aycliffe-based firm's customers are based in the UK, but an increasing amount of work is being won overseas, with contract successes in Canada, Turkey and Germany leading the way.
ATAG – who have previously featured in our B2B magazine Aycliffe Today Business – currently turns over around £600,000 per year and has a staff of seven, but it is aiming to use the Growth Fund investment it has won from regional fund management firm NEL Fund Managers to double both these numbers over the coming 12 months.
Lead by managing director Andy Graham, ATAG Cable Solutions was set up in 2012 after its management team bought the equipment used by ATAG's predecessor firm after its parent company went into administration.
David Hazeldine, business development manager at ATAG, says: "Our success so far has been based on the quality and reliability of our products, which are manufactured to far higher standards, and after just over a year in business, we think we're only starting to realise the company's potential.
"There's substantial demand for custom-made cables from both domestic and overseas markets, which is reflected in the month-on-month gains that we're consistently recording, and we're already recruiting to allow us to extend our operating hours and stay on top of what customers want.
"The new products we'll be manufacturing will give us a stronger position in a number of key markets, while achieving the quality standards we're working towards will enable us to tender for a wider range of bigger contracts with clients that demand these sorts of guarantees from their suppliers.
"The NEL team were easy to deal with, they gave us the right investment option for the stage of development that we've reached and we couldn't have done what we're doing without their support."