Newton Aycliffe councillor and community campaigner Dorothy Bowman has been recognised for her work with a social honour.
To mark the 20th anniversary of the Angel of the North landmark, BBC North-East and Cumbria searched to find the region's real 'Angels of the North'.
Locals were asked to nominate someone they know who has made a difference in their area and a list of 20 individuals were announced for each year of the landmark's anniversary.
Mrs Bowman, who has been working to make opportunities for people in her community, was one of the 20 to be honoured.
Despite suffering from breast cancer a few years ago, she continued to support others by setting up a community for dementia sufferers and delivering food to her local area twice weekly.
"Receiving the award was I think one of the proudest moments of my life," said Mrs Bowman, pictured above (picture courtesy of The Northern Echo).
"There were 320 nominations from across the whole of the North-East and 20 of us where chosen for our dedication to our communities and the continuous work that we do. This was to commemorate the 20 years that the "Angel of the North" has been erected.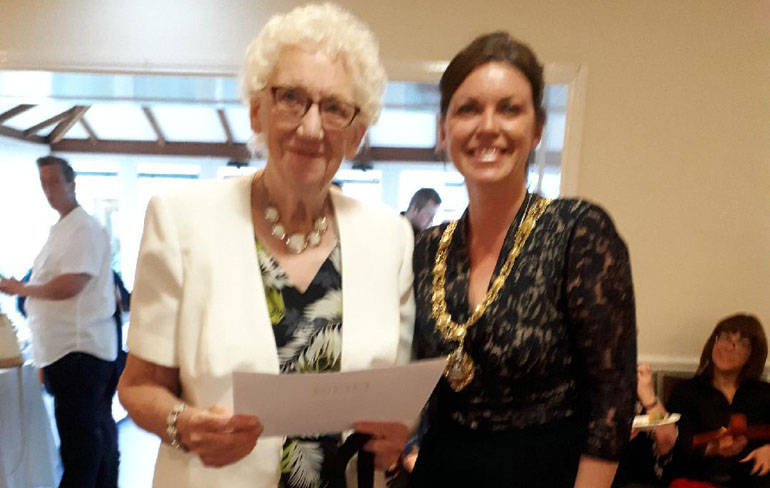 "I spent a fantastic few hours with the other 19 angels under the shadow of the true Angel of the North at Gateshead."
Phil Roberts, Head of BBC North East and Cumbria said: "Our wonderful Angels of the North have been selected in recognition of their selflessness and their dedication to helping others.
"They all make a huge difference to people's lives with their acts of kindness and the remarkable work they carry out in their communities."
The other 19 Angels who joined Dorothy were:
• Pat Simpson from Northumberland who runs a café that raises money for local charities;
• Kirsty McGurrell from Sunderland who founded charity 4Louis;
• Lisa Scott from Sunderland who looks after and finds new homes for rescue dogs;
• Gaynor Williams from Darlington who set up and runs a digital support group for people widowed at a young age;
• Rola Naeb, an outreach worker in Newcastle who works with the Syrian community;
• Callum Carr, an anti-bullying campaigner from South Tyneside;
• Harry Steel, an 11-year-old fundraiser from North Tyneside who raises awareness for charities following the death of his father and uncle;
• Colin Bergin-Plews, a breast cancer charity fundraiser from South Tyneside known for running the Great North Run in a big pink dress;
• Sandra Barber from Sunderland who founded a martial arts club to help homeless young people;
• Shaun McKay, a coastguard volunteer and community first responder from Northumberland;
• Marie Blyth from Blyth a support group worker with Teardrop, which supports families through the death of a baby;
• Gerald Lee, an environmental campaigner from Heighington who also visits local elderly and vulnerable people;
• Ann Walsh, a charity campaigner from South Tyneside and chairperson of the annual Jarrow Relay for Life event;
• Brenda Price, a community worker from Chester le Street who helps those in need in her community;
• Muriel Tully from Sunderland who has been organising the Wearmouth Colliery reunion for 25 years;
• Christine Deponio from Gateshead who has opened her home to cancer patients and their families, and provides them with holiday homes in Weardale;
• Christine Kyle, a nurse from Gateshead who has continued to work during her treatment for cancer;
• Steve Price, a teacher from South Shields who has ensured a deceased student's family has remained part of the school community;
• Glenda Burton, a foster carer from Cumbria who has taken care of nearly 100 children.