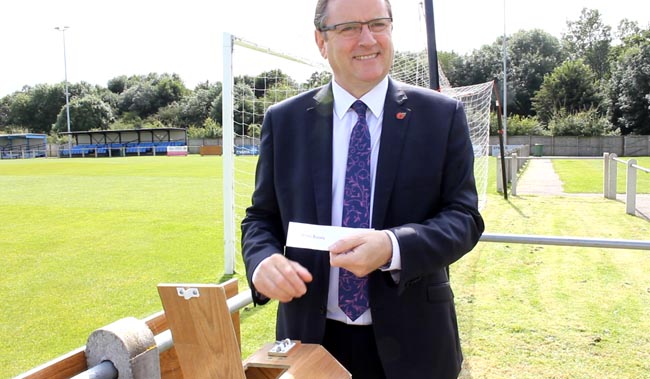 Newton Aycliffe firm Aux Audio were today named as the winners of Newton Aycliffe FC's stadium naming rights competition.
The local recording company, ran by Lesley Bussey, was picked out first by Sedgefield MP and Aycliffe FC's president Phil Wilson in the draw at Moore Lane Park.
Lesley was actually present for the draw, which involved 22 local companies and organisations.
The venture has raised some much-needed funds for the Northern League club, who welcome the FA Cup to their newly-sponsored Aux Audio ground on Saturday.
Mr Wilson said: "I think it's been a fantastic exercise for the football club to engage with local business.
"I know it has enabled the club to bring in some business from firms they've never dealt with before, so striking up new business relationships can only be a good thing for the club.
"And from Aux Audio's point of view, it's a brilliant opportunity to increase the profile and awareness of themselves and what they do."
The exact name of the new ground will be confirmed as soon as it's been approved by the Northern League.
The full list of winners is listed below, in order of how they came out. The runners-up prizes will consist of five pitchside perimeter advertising boards and 16 match sponsorships.
1 Aux Audio (winner)
2 Newton Aycliffe Juniors FC
3 AK Brewster Vehicle Repairs
4 Xcel Centre
5 Stiller Warehousing & Distribution
6 Ross Wright Ltd
7 Newton Aycliffe Youth FC
8 SCH Site Services
9 Spirit Fires
10 Finley Structures
11 Gregg Little Testing Centre
12 Tekmar
13 Dan Molynuex Goalkeeping Academy
14 Safeline Taxis
15 Lesley Bussey
16 Colins Seafood
17 NAFC Supporters Club
18 Hewitts
19 AC Door Systems Ltd
20 Mill Masters
21 Lesley Bussey
22 Honest John