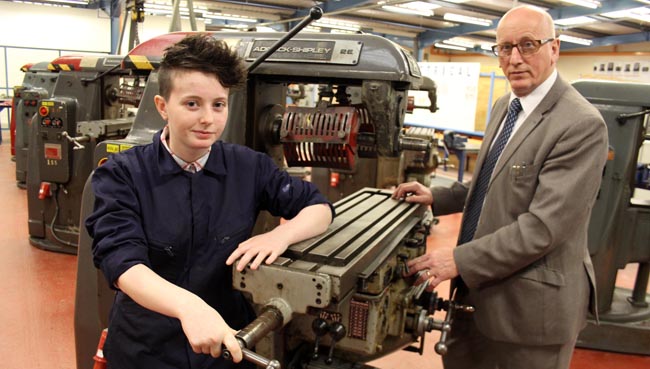 To celebrate National Apprenticeship Week, we speak to one of Hitachi Rail Europe's Apprentices, Sally Beale, who's currently doing her Apprenticeship with South West Durham Training (SWDT).
Sally is pictured above with SWDT CEO Trevor Alley…
• What type of apprenticeship are you following?
I am on an advanced technical apprenticeship.
• What made you decide to pursue an apprenticeship, rather than follow the more traditional academic route?
Although my GCSE results could have allowed me to pursue the traditional route, I chose an apprenticeship as I can learn and gain qualifications whilst following the career path I've chosen. I find that a practical style of learning really helps me to understand each subject.
• How is your apprenticeship structured (i.e. how much of the week are you at an Hitachi Rail Europe site and how many hours do you spend at college per week gaining the theoretical insight to support your studies?)
For the past 7 months we have attended South West Durham Training 5 days a week. 4 of these days are spent working towards our NVQ level 2 (PEO) covering 3 main areas – maintenance, bench fitting and electrical. The other day is spent working towards our BTEC level 3 in engineering.
As SWDT closes during school holidays for training, we are buddied up with engineers and are given the opportunity to see the work they are doing and the progress they have made. They also offer us guidance and support with our BTEC work.
• How long have you been with HRE?
Since September 2014
• What is the most exciting thing that you have had the opportunity to do since joining HRE?
Since joining HRE myself and the other 3 apprentices have had the opportunity to go to the Ashford maintenance depot. We were given a depot tour and spent time with the engineers who maintain the train.
• How do you feel you have progressed since joining HRE?
I have vastly increased my knowledge and practical skills due to the training offered by SWDT. The short NVQ course has helped me to understand the foundations of engineering and has been very beneficial when talking to the engineers from HRE about their jobs.
• What advice would you give to others considering pursuing an apprenticeship?
If you want to gain qualifications and experience but don't like being confined to a classroom, an apprenticeship is definitely for you. With my apprenticeship I am able to gain all the required qualifications whilst being paid, which I would not have done if I had followed the traditional route.
• How do you see your career developing in the future?
There's lots of opportunity for progression within the HRE. I have joined HRE in Newton Aycliffe early which means that I will have the opportunity to advance my career as the company expands. I am keen to continue with learning, both practical and academic; as there is chance to undertake higher qualifications such as an HNC.