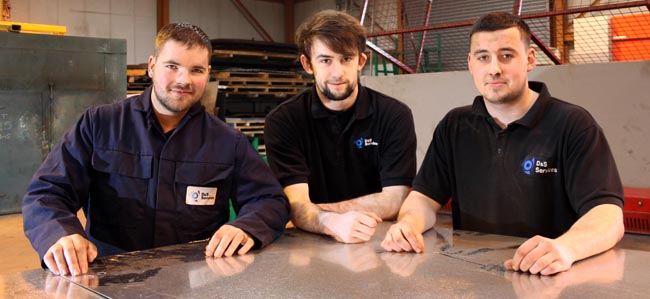 By Martin Walker
A Newton Aycliffe Fabrication and Engineering firm is taking on more staff to cope with demand as its Apprentices exceed expectation following a string of recent success stories.
Tom Holt (above centre), from Hurworth has just started his Level 3 Apprenticeship in sheet metal work and fabrication through neighbouring South West Durham training.
The 21-year-old follows in the footsteps of mature Apprentice Tom Wise (above left), 28, who was named Apprentice of the Year at the Aycliffe Business Park Make Your Mark awards event last year, and 21-year-old Matthew Craigs, who has just completed his NVQ level 3 apprenticeships in fabrication and welding.
Award-winner Tom is also on target to graduate a year ahead of schedule.
Commercial Director Alastair Tennant said: "We believe Apprentices are key to the future success of our business and we are committed to the development of each and every apprentice. The company is delighted to be expanding the team.
"Both Matthew and Tom are great examples of how through apprenticeships you can nurture their skills from the outset of their career developing them into first class fabricators."
Nine new workers have joined the company in the last three months, increasing staff numbers from 19 to 28 to deal with a surge in work at its Aycliffe site.
D&S production manager Steve Bassett, who joined the company last summer, said: "It's some achievement for Tom and we're really proud of him.
"It's been a really successful year for him, after winning the Apprentice of the Year award last year, and he has been a valuable member of the shop floor team since he joined the company.
"We took Tom Holt on as a sheet metal and fabricating Apprentice because we identified progression needed in that area."
D&S recruit Apprentices through neighbouring South West Durham Training, and Steve added:" As their manager it's also something I really enjoy doing. I sit with them for a couple of hours every week, go through their books and observe them working so we can sign them off to the right standards.
"To see those being nurtured into our future fabricators gives me great satisfaction and we look forward to taking on more Apprentices in the future as we continue to grow the company."
D&S Services, based on Aycliffe Business Park, is a multi-disciplined service supplier who delivers metal fabrication and engineering services nationally.
D&S Services' main divisions are D&S Express, D&S Material Handling, D&S Fabrication, D&S Coating and D&S Agricultural.
D&S Services also achieved IS0 9001:2008 accreditation in September last year.
• For more information about D&S Service, visit www.dandss.co.uk