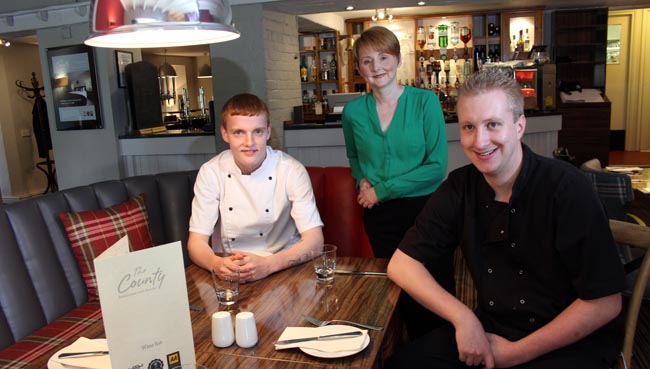 By Martin Walker
Newton Aycliffe award-winning restaurant The County is celebrating a £50,000 makeover after seeing another record year in turnover.
Now the management is taking on two new Apprentices to add to its growing team in Aycliffe Village.
Business owners Colette Farrell and Stuart Dale, who are seven years into a 25-year lease at The County, have spent thousands of pounds on improvements since taking over the pub in January 2008, when annual turnover stood at £300,000.
The duo have nearly trebled that in six-and-a-half years, with 2013-14 gross hitting just under £800,000.
The secret recipe to their success, pardon the pun, has been attention to detail and customer care.
"We're very conscientious – it's all about the customer," says Colette.
"We spend a lot of time training the staff on everything about the customer experience.
"It helps when the staff are happy. They enjoy working here and I think that comes through to the customers."
New recruits at The County include Apprentices Callum McFadden, from Aycliffe, and Scott Marriott, from Ferryhill.
Callum, 19, started with the restaurant washing pots and is now doing a level 2 Apprenticeship in professional cookery with The County, through Bishop Auckland College, while 21-year-old Scott is doing a level 3 Apprenticeship.
Colette said: "They want to learn. It's great to see young people interested in the hospitality industry and to be part of their career journey.
"They'll complete their Apprenticeships next year and we'll then have two new newly qualified chefs to add to our growing team of 30."
Prior to moving into The County, manager Colette and head chef Stuart ran the Hare and Hounds near Sedgefield for eight years.
Colette, from Manchester, started in the hospitality industry at 21, and moved to the North East in 1996, taking up the role of operations manager at Blackwell Grange Hotel in Darlington.
The County made national headlines over a decade ago when then Prime Minister Tony Blair entertained French President Jacques Chirac at the pub back in November 2000, when the two leaders were pictured sipping a pint of beer.
Last year, The County was selected as the best pub for grub in the Northumbria section of the national Good Pub Guide 2014, and was praised by the guide for its real ales, good wines and "popular, interesting food".
Colette is now determined to keep building on its success, with the management personally financing a recent £50,000 refurbishment.
"It's crucial that we re-invest back into the restaurant," she says.
"When we first took it over, the place was empty and there were hardly any customers. We wondered just what we'd taken on.
"But we've turned it around with hard work and ambition. We're here for the long haul and putting money back into the business to promote its future growth just makes long-term business sense."
As well as the restaurant, The County boasts seven rooms which are regularly used by firms on Aycliffe Business Park, including Gestamp Tallent, PWS, Wilsonart, Lucite, 3M and Hitachi Rail Europe.
• The County is now taking bookings for Christmas parties and lunches, with a festive lunch menu from £15.95 per person and a dinner menu from £27.95pp, which are available from Monday 1st December. To book, call 01325 312273 or email [email protected]
www.thecountyaycliffevillage.com