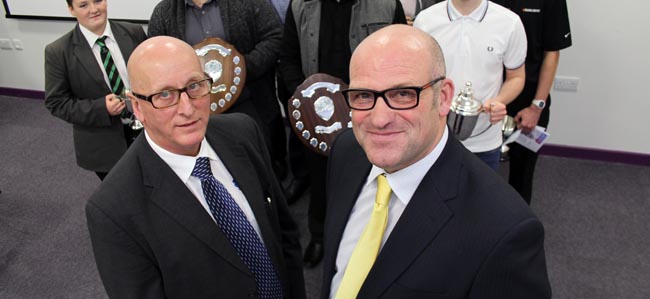 Businesses from across the North-East will have the chance to speak to industry experts about the importance of apprenticeships at a forum held in Newton Aycliffe next week.
South West Durham Training's (SWDT) CORE facility will host the North East Apprenticeship Forum on Wednesday 5th March.
It will give local businesses the opportunity to speak to training providers in the region who can offer Government funded training for vocational apprenticeships.
The 46-year old company that delivers engineering and manufacturing training support will be driving home the value of apprenticeships at the free event from 7:30am until 2pm alongside other training providers responsible for sectors including hospitality and catering, ICT, business administration and customer service, engineering and manufacturing, hairdressing, cleaning and support services, motor vehicle, construction, DGV and more.
SWDT chief executive Trevor Alley (pictured above, left) said: "We aim to provide business leaders in all fields the opportunity to see and hear how some of the region's key companies are embracing apprenticeships and the message we need to get out to employers is that the apprenticeship route is not a risky one, but one that will produce a highly capable member of staff, with exactly the right skills and experience for their business.
"We really believe the event will be a great opportunity for businesses in the region to network and find out about available grants and funding and we look forward to welcoming a range of businesses to our facility.  We're sure that it will be a highly informative and enjoyable day for everyone involved."
The forum will also offer local schools and those interested in becoming an apprentice the chance to view the various courses on offer in the region, browse current vacancies and speak to training providers in their chosen sector between 10am and noon.
Businesses interested in exhibiting a stand at the forum and those interested in finding out about apprenticeships can register at www.eventbrite.co.uk/e/apprenticeship-forum-tickets-10408400807