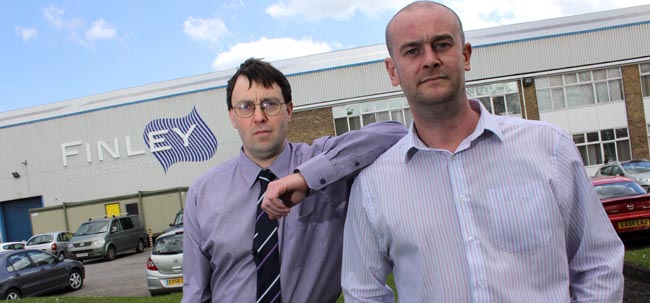 A Newton Aycliffe welder has showed how Apprenticeships can help forge a high-flying career in the construction industry.
Andrew Workman, nicknamed Wil by friends, has worked for Finley Structures for the past 10 years and has recently been promoted to senior estimator.
The 38-year-old – pictured with the firm's new senior estimator Chris Hodgson – completed an Apprenticeship in fabrication and welding with the Army after leaving Woodham Academy, Newton Aycliffe, in 1991.
After leaving the forces, Andrew found work with Aycliffe-based Ross Wright Engineering and also worked for a number of other firms as a welder or fabricator before joining Finley's a decade ago, working his way up from a welder to a supervisor's position and then workshop foreman before he moved into the office as an estimator.
Andrew said: "The opportunity to progress again came about when the role of senior estimator was advertised, which I applied for and was lucky enough to be offered.
"It's a great example of how Apprenticeships can reap rewards. There are some people in my position who went down the University route and this shows both avenues can be equally rewarding.
"I've been with Finley Structures for 10 years now, seeing the business grow into what we are today, one of the biggest fabricators in the country.
"I am now looking forward to the next ten years, and welcome new estimator Chris Hodgson to the team, who brings with him a wealth of experience."
Chris, who has recently joined Finley Structures as an estimator, started his first job with Indescon Steel Division, Darlington, in 1987, working in various departments including estimating up until 1991.
He worked briefly for Permoid in Newton Aycliffe during 1991 then started at Tarmac Roadstone at Coxhoe quarry, pricing road construction projects.
He then joined South Durham Structures where he worked for over 14 years, pricing a vast range of projects until accepting a job offer at Hambleton Steel in April 2005, pricing larger and a more diverse range of projects.
A two-year stint with steel structural firm Hares of Snape, based in Bedale, North Yorkshire, followed for Chris, up until joining Finley Structures in May.
Finley Structures, which has an annual turnover of £15m, has recently worked on a high-profile 1,000-tonne contract for Drax Power Station near Selby in North Yorkshire and is currently working on a 500-tonne job for Shepherd Construction at Ercall Wood Technology College in Telford as well as a 70-tonne contract for Carillion Building at RAF Leeming in North Yorkshire.
It has also recently completed a 300-tonne contract for Mansell Construction at Wellstream in Newcastle and a 150-tonne job for Vinci Construction at the University of York among others, while its order book for the coming months remains busy.