Newton Aycliffe's latest outdoor play area is yet another fantastic facility for the community, says the boss of one of the organisations that helped to fund it.
A partnership fundraising effort of £150,000 has helped to rejuvenate the once derelict wasteland at Cobblers Hall into a brilliant new outdoor play facility.
The project – initially thought up by councillors John and Barbara Clare – came to fruition thanks to the Great Aycliffe and Middridge Partnership's support.
GAMP facilitated £65,000-worth of funding towards the overall cost – this was made up of £20,000 from GAMP's own area budget and £15,000 each (£45,000 total) from the neighbourhood budgets of Cllr Clare and former councillors Joan Gray and Mike Dixon, which is facilitated by GAMP, plus a further £15,000 from Durham County Council's Delivering Differently fund.
The partnership's funding was crucial towards the project as that triggered a £75,000 match-funding offer from Great Aycliffe Town Council, which also acquired the land from Durham County Council on a 99-year lease.
GAMP facilitates £100,000-worth of grants from its area fund alone, with a further £140,000 from the seven county councillors' neighbourhood budgets being spent on community-related initiatives in Aycliffe and Middridge every year.
The Cobblers Hall investment therefore represents 27% of GAMP's combined 2017-18 spending, including neighbourhood budgets, making it a hugely important project for the town.
GAMP co-ordinator Brian Riley, pictured above at the play area, told Aycliffe Today: "It's been a great partnership effort with several key funders involved – it's already really well used, and is fantastic for the community.
Click here to see our Video Interview with Brian
"I work just over the road at the Pioneering Care Centre so I go past here twice a day, and the park has been busy since it opened.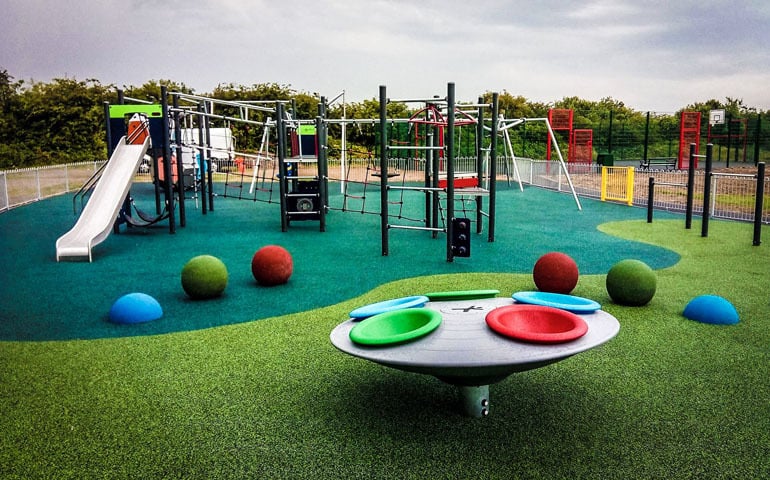 "In Aycliffe we're inundated with high-quality play areas and outdoor areas so it's just another brilliant facility for the people of Great Aycliffe and Middridge."
GAMP focuses on funding projects in three core areas – young people and families, employment enterprise and training; and older people.
It has recently completed its latest call-out for the new financial year, with 12 successful projects due to go to full technical appraisal which will allocate GAMP's fund for 2018-19.