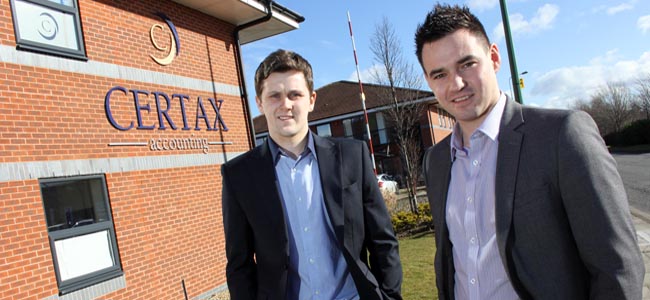 By Martin Walker
An ambitious accountancy firm is targeting major growth in the next year after seeing turnover jump by more than half.
Matthew McConnell and Jonathan Tait are partners in the Durham franchise of national network Certax, and have been based at the HUB Workspace on Aycliffe Business Park since August 2013.
Since their move to Newton Aycliffe 18 months ago, Certax Durham has doubled its client base to 700 and seen turnover jump from £195,000 to £352,000.
Five employees have been taken on, and the accountants aim to take on at least two more members of staff this year and increase sales again to £400,000.
Their long-term aim is to snap up Certax franchises in other areas of the region and eventually create a Certax North East practice.
"We're very ambitious and we know where we want to be," said Matthew.
"We want to grow the company, increase our workforce and eventually open practices in other areas of the region.
"We're already one of the best performing Certax franchises. There are around 200 in the UK but we're currently the only one in the North East, so it's our aim to target Newcastle, Sunderland and Teesside."
Certax Durham moved to Aycliffe with just one Apprentice on its books, but now employs six people including administrator Hannah Race, payroll clerk Bethany Wade, accounts assistants Bradley Wilson, Brogan McDonald and Josh Baker and Robert McCarthy, who's joined the firm from HMRC as tax manager.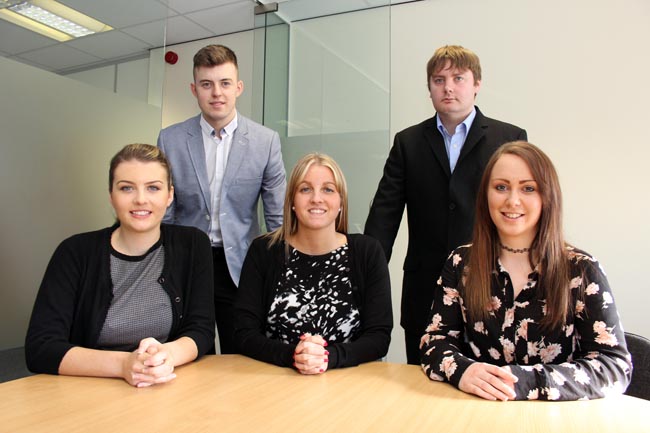 Young recruits – (sat down, left to right) Brogan McDonald, Hannah Race and Bethany Wade; and (stood) Bradley Wilson and Robert McCarthy.
Matthew said: "We've taken on a lot of young staff on Apprenticeships and we feel that's been hugely beneficial for the company.
"They get to earn while they learn and they'll come out of it with a qualification at the end of it.
"It has enabled us to grow significantly in the last 18 months and we're looking to take on two new Apprentices this year."
Certax Durham is now dealing with a range of clients, from sole traders up to £5m-a-year companies.
Matthew added: "When we first started out we were dealing with a lot of young start-ups and small firms with turnover under £100,000, but now we're dealing with some really major firms, of sales between £2m and £5m.
"We deal with a lot of firms in the construction industry, where we look after the accounts for the business itself but also do the tax returns for all its employees.
"I think a lot of our success is down to the fact we like to give the best service possible. I know that's a cliche, but we're conscientious and pay great attention to detail.
"We do the full financial package for clients. We can look after insurances and mortgages as well as accounts so our clients can come to us for everything.
"We can also look after tax reclaims for capital allowance and research and development.
"We're a national network of accountants but with a very specific local focus. We offer a wide range of services with the experience, expertise and specialism normally afforded to a national firm of accountants, but with a local, personal and friendly service that our clients will come to rely on year after year."
Certax Durham can help Aycliffe businesses with audits, self assessment tax, payroll and VAT returns, accounts for sole traders, partnerships and limited companies, personal and business taxation planning, company formation, corporation tax compliance and planning, inheritance tax planning, Inland Revenue representation, periodic management accounts and reporting, financial projections, accounting for charities, training in accounting and book keeping, raising business finance and computer-based accountancy software systems.
• You can contact Certax Durham on 01325 315666, email [email protected] or go to www.certaxdurham.co.uk