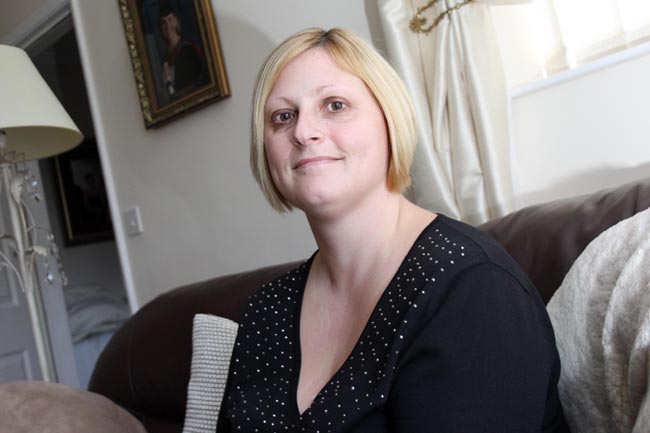 Newtonian and charity campaigner Allison White will undergo a hysterectomy this week in her latest battle with leukaemia. She talks to Zoe Skerrett about her continued fight, and her support group which is approaching its first anniversary…
Five years ago Newtonian Allison White popped home during a country festival in Barnard Castle to find a letter and a telephone message asking her to contact urgent care as soon as possible.
Thinking nothing of it, Allison, 32 at the time, went down to Bishop Auckland hospital to be told her blood cells were low. Presuming she was anaemic, she sent her mother back to the festival while further blood tests were carried out.
After being transferred to the Freeman Hospital in Newcastle, she stayed the night before having a bone marrow test the following morning. Within hours, Allison was told the devastating news that she had a rare form of leukaemia.
Acute Promyelocytic Leukaemia represents around 10% of leukaemia cases and on average affects people aged 30-40 years old. With bruising a common symptom of leukaemia, it was quickly apparent why Allison had over 50 bright blue ones on her arms.
As Allison's form of leukaemia is quite rare, she was selected to be monitored for trial purposes that could help out other sufferers. With the mindset of helping others, young or old, she decided to take part.
In Freeman Hospital for five weeks, a rota was devised to ensure she had visitors each day but seeing other patients with many more family and friends around them was hard for Allison to watch.
"I think what got me through it was that I started my fundraising straight away," she told Aycliffe Today.
After spending so long in hospitals, Allison and her mum took a short break to Redcar. After collapsing at the dinner table, she went to rest and woke up the following day still not feeling better. She was taken to the University Hospital of North Tees where she was told if she'd left it a couple more hours, she wouldn't have survived.
Now awaiting a hysterectomy, due to go ahead this week, 37-year-old Allison left her full-time job as a supervisor and accredited checking technician with a local pharmacist when she was diagnosed and has been in remission since chemotherapy. With a couple of months left before she finds out if she's got the all-clear, Allison has hospital visits most days each week all over the North East.
Constant tiredness, having to use crutches to get around or the 24-hour pain is some of the long-term side affects that people don't realise stay with you for life.
During the first year, she held four charity nights and raised over £10,000 for cancer charities.
After receiving support and starter funds from MacMillan, Allison set up her own support group, Great Aycliffe Cancer Support to help anybody in the local area with any form of cancer.
"I do this group because I've suffered, I've been through it all and I don't want other people to feel how I did," Allison says.
Held on the first Thursday of every month at Neville Parade Community Centre 6-7.30pm, Allison has been running her support groups since February 2014.
Almost a year on, the group has around 16 members, which gets together monthly to support each other and enjoy time away from hospitals and care.
Not a group where you must discuss your cancer or your experiences, but more to get support and advice, Allison stresses that this group is where you should feel comfortable in a safe environment with like-minded people.
"It's about signposting people in the right direction and telling them that there is the help out there," she says.
"People often don't know where to find help, and that's where we come together as a group to offer support and advice to others.
"So far we've had two day trips out to help people get out and take their minds off it. They've gone really well, but we have to get for funding for that."
Being the only group in the North East that caters for all types of cancers, Allison is looking for local businesses to support the group so it can carry on helping local residents through difficult times.
If you would be interested in attending one of Allison's support groups, you can contact her on 07762258696 or email [email protected]
Alternatively, if your business would like to support her group, you can contact the number above.