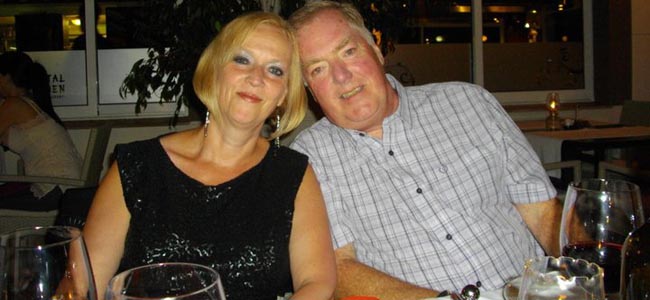 By Martin Walker
A special golf day and evening is being organised to celebrate the life of a popular Newtonian.
Allan Kelley sadly passed away in May after a hard-fought battle with a cruel and debilitating cancer.
Now his wife, Sue, and daughter Stephanie, along with the help of many friends, are organising a fundraising day on Saturday 20th September – what would have been Allan's 60th birthday.
The day-long celebration consists of an afternoon of golf at Woodham Golf Club, with a four-balls competition at £25 a head – only a limited number of spaces are now available.
But organisers have also planned an evening of entertainment on the night, in the Golf Club's function room.
A reception drinks and canapés on arrival will be followed by a three-course meal and entertainment from Darlington band Hows Tricks.
The day-long event will raise funds for Macmillan Cancer Support.
Sue said: "Although Allan didn't survive long enough to need the traditional palliative care from Macmillan Cancer Support, the charity helped provide him with a better quality of life via a brilliant occupational therapist and aids and adaptations.
"Allan was a very private and proud person who was very resistant to accept any external help but the very persuasive Macmillan team helped to convince him that by using assistive equipment, he would be able to retain some levels of energy to do more qualitative things in the latter time of his life.
"Macmillan also provided much-needed family support for my young grandson as he struggled to cope when his beloved Grampy went to heaven.
"Although Allan had a terminal cancer he had always maintained that he never wanted to lose his dignity and he incredibly hid his suffering from his family and friends until the very end.
"Steph and I had no idea how ill he was and we were not ready to lose him so early.
"We still struggle coming to terms with the void he has left in our lives and want to do something positive to focus our energies on remembering how lucky we were to have Allan in our lives rather than spend all of our time missing him."
Allan had previously spent a year as Chairman at Woodham Golf Club and himself had raised money for local charities.
Allan was 59 years old and lived all of his life in County Durham. Allan was a keen golfer and Chair of the Woodham Golf and Country club, Newton Aycliffe, raising much needed funds for local charities.
• Tickets for the evening event are priced £25 a head – to book, call Richard Parker on 07506 199514 or email [email protected]