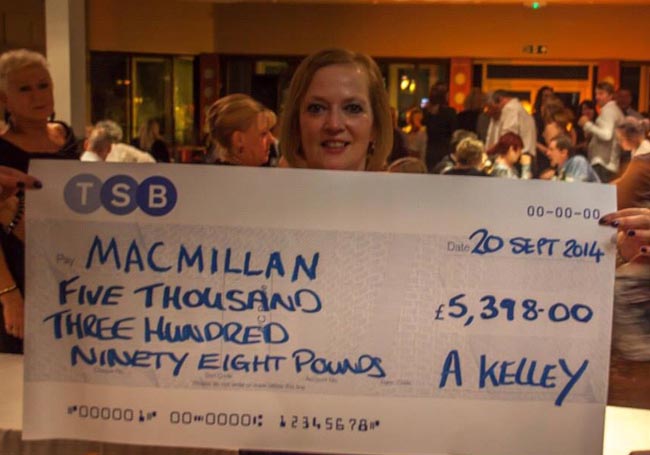 By Martin Walker
A special golf day and evening to celebrate the life of a popular Newtonian has raised £5,600 for charity.
Allan Kelley sadly passed away in May after a hard-fought battle with cancer.
His wife, Sue, and daughter Stephanie, along with the help of many friends, organised a fundraising day on what would have been Allan's 60th birthday last month.
The day-long celebration consists of an afternoon of golf at Woodham Golf Club followed by an evening function in the clubhouse.
A total of £5,398 was raised on the night, but donations since then topped that sum up to £5,600.
"I'd like to say a huge thank you to everyone who helped," said Sue, who is pictured above on the night and below teeing off the golf competition.
"I'd especially like to thank Mandy and the staff and owners of Woodham Golf Club and all the local business that donated raffle and auction prizes.
"And, of course, all the people that turned up and made the event a success with their amazing generosity."
Allan lived all of his life in County Durham. He was a keen golfer and spent a year as chair of Woodham Golf Club, raising much-needed funds for local charities.
Everyone who donated prizes were:
Item
Doanted by:
BMW Z4 Remote Controlled Car
Sue Kelley
BMW T Shirts
BMW Cooper Boldon
Spa Evening @ Headlam Hall
Headlam Hall Hotel
PowakaddyGolf Bag
Barry Watkin
4 Ball @ Darlington
Darlington Golf Club
Magnum Thienot Champagne
Ray and Vanessa Gardner
Flymo Lawnmower
Husqvarna
4 Ball @ Houghton
Gavin Brown
England  and Durham Cricket Shirts signed by Scott Borthwick
Scott Borthwick
Seaham Hall Twilight Spa and Meal for 2
Sue Kelley
Alnwick Castle – Family Ticket
Alnwick Castle
4 Ball, Ramside
Gavin Brown
SAFC Signed Shirt
Billy Wheatley
4 Ball, Houghton Le Spring
Gavin Brown
X2 Grandstand and Paddock Tickets, Remembrance Day, Sedgefield Racecourse
Sedgefield Racecourse
SAFC Gus Poyet limited print
SAFC
4 Ball Richmond
Richmond Golf Course
SAFC Signed football
Grant Gillespie
Meal Voucher
Bengal Lounge, Woodham
Meal Voucher
The County, Aycliffe Village
Meal Voucher
The Punchbowl Inn, Edmundbyers
Photo Shoot
V&H Photography
Meal Voucher
Green Tree, Tudhoe
Meal Voucher
Burtree Inn, Burtree
Gym Membership
RS Total Fitness, Seaham
Hairdressing Vouchers
Hairdressing @ No 4, Seaham
Family Tree Frame
Little Grey Bird Company
Crook 4 Ball
Crook Golf Club
Jumpers
Santander
Plus many bottles and prizes donated by friends………..