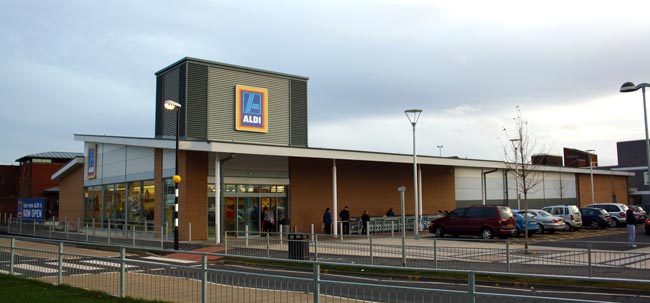 Aldi has vowed to maintain the supermarket price war as it announced a 65% increase in its UK profits.
The German discounter – which opened a store in Newton Aycliffe nearly two years ago – said it would respond to price cuts from competitors with further discounts and claimed that attempts by rivals to match its budget approach had only served to boost sales.
Aldi revealed today (Monday) that UK sales increased 36% to £5.3bn last year, up from £3.89bn, and pre-tax profits climbed by nearly two-thirds to £261m.
£1.5M ALDI STORE OPENS IN AYCLIFFE
The announcement comes a week after the most prominent victim of Aldi's success, Tesco, saw its share price tumble after admitting it had overstated profit estimates by £250m.
Aldi's UK joint managing director Matthew Barnes said: "Whatever our competitors plan to do, we know exactly what our response will be and our competitors do as well. We will not let them compete on price. We will not let them close the gap."
Aldi opened 42 new stores last year and attracted one million more customers, capitalising on a significant change in shopping habits that is hitting the traditional supermarket giants hard.
Aldi is to open 54 new stores in the UK in 2014 and next year it plans up to 65, taking its total number of outlets to over 600.
The UK chain, which is owned by the Albrecht family, based in western Germany, is aiming to have 1,000 stores by 2021.
Tesco, Sainsbury's and Morrisons have all lost market share in the past year as the low prices offered by Aldi and fellow German discounter Lidl have tempted customers away.
Aldi has also lured shoppers with smaller, uncomplicated stores based in neighbourhoods rather than out-of-town locations.
Established retailers have been forced to cut prices to become more competitive with Aldi and Lidl – but Aldi has only lowered its prices in response.
Aldi joint MD Roman Heini added: "Our competitors have mentioned the need to close the gap on Aldi, but we are clear that we will maintain that price gap and are determined to do so."
Heini said Aldi's business model, based on selling about 2,500 products – less than a tenth of the range sold in the average British supermarket – meant that the major chains would never be able to match its prices.
Aldi is able to order this selection, more than 90% of which is own-label products, through bulk-buying, while dictating the package size in order to fit the maximum amount of goods on its shelves and lorries in order to keep costs low.
While low prices are the magnet for most shoppers, Aldi has also broadened its appeal with clever marketing and more fresh foods.
This Christmas it will offer nearly a third more premium products than it had in stores last year, including caviar, fresh crab and fresh scallops, as it tries to draw in wealthier shoppers on the lookout for bargains.