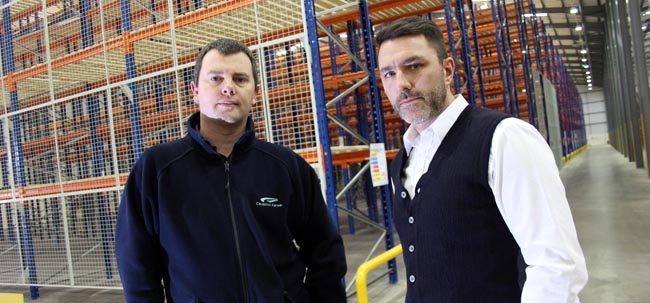 By Jonathan Ward
A Shildon business which specialises in designing and installing warehouse equipment has racked up one of its biggest contracts to date fitting out one of the North East's Leading supply chain company for vehicle components.
Advanced Handling and Storage installed pallet racking at Calsonic Kansei's brand new 100,000sq ft facility at Doxford, near Sunderland, to bring its warehousing solutions in-house for the first time.
An incredible 3,686 pallet locations were installed in just five weeks to complete the contract which caps a 18-year relationship between Advanced Handling and CK Europe.
Managing Director Chris Moody said: "We have worked with Calsonic from when we first set up business but this is certainly the biggest job we have done for them to date. They are a business we know well, so when we heard about the specifications for this contract, we knew it was a job we could deliver well, on time and within budget."
Calsonic, which manufactures plastic components, interiors and dashboard equipment for vehicles, were keen to bring its warehousing facility back in-house after using a third party supplier for many years.
After identifying a suitable facility, Calsonic set Advanced Handling and Storage the challenge of designing and installing a pallet racking system that would maximise efficiency within the warehouse, which is approximately the size of 1.5 football pitches.
All of the aisles are fitted with wireless transmitters so that operators can easily and quickly locate products by simply scanning a bar code. The wireless system helps to eliminate 'wrong picks' which is essential amongst a warren of thousands of pallets and hundreds of thousands of individual parts.
Steve Ridley, a section leader in production and materials control for Calsonic and project leader at the new facility, said: "We have worked with Advanced Handling and Storage for many years so we know what they are all about. They understand our business, what we need and were able to provide the ideal solutions.
"This is a busy warehouse with a 40-foot articulated lorry leaving the warehouse every hour. It's essential that the pallet racking was designed and installed to maximise efficiency and Advanced Handling have been able to deliver."
While Calsonic can now control and manage all of its all inventory itself, Advanced Handling and Storage has also expanded its own operation. The business, which was set up by Chris Moody in 1996, recently invested £225,000 to extend its warehouse at Shildon taking the warehouse capacity to 24,000 sq ft.
From there, Advanced Handling & Storage provide new and used storage and handling equipment for industrial units, factories, warehouses, shops and retail outlets all over the UK. Customers range from people simply seeking racking and shelving for their own garage or home, right up to huge international businesses such as Calsonic Kansei which turnover is up to 1 Billion Euros per annum.
Chris said: "We pride ourselves on being one of the largest providers of the widest variety of storage and handling equipment in the UK.
"It is very encouraging to be working in partnership with the likes of Calsonic, as well as other well-known supply chain suppliers and blue chip companies. By having our own warehouse, people can pick and choose to tailor make their requirements which means we remain flexible, efficient and very competitive."
A further boost for Advanced Handling in 2014 was the implementation of its e-commerce website which offers its customers a quick and easy buying solution.
Chris added: "The demand for our online catalogue consumable products and shelving is increasing all the time. Technology is now a massive part of consumer buying trends and we want to ensure that we give our customers the best buying experience every time.
"It doesn't matter whether we are dealing with a one-man band or a massive organisation, our team has a wealth of knowledge within this industry and this allows us to offer our customers the confidence that they are dealing with a professional, competitive and efficient organisation."
For more information about Advanced Handling and Storage, visit www.advanced-handling.co.uk