Aycliffe Today Business editor Martin Walker meets an ambitious firm which is targeting growth after relocating to new premises on Aycliffe Business Park…
A North-East firm which specialises in air compressors and blowers has fully relocated to Aycliffe Business Park amid ambitious growth plans.
Air Compressors and Blowers (ACB) first launched a satellite office in Aycliffe two years ago, with plans to eventually move its Gateshead operation down the A1 to Newton Aycliffe.
Now, after experiencing year-on-year growth for the last four consecutive years – and having identified Aycliffe as a stronger central location for its growing client base – ACB has relocated to new premises on Whinfield Drive.
The firm has completely renovated previously vacant space at the two-storey 2,000 sq ft offices and workshop, which sit adjacent to Cumbie Way just across the road from ROF 59.
And for the firm's sales director and local resident Paul Sparke, who completed a tool-making apprenticeship on the business park in his former days, is hopeful the move will springboard ACB to new heights.
ACB, which is part of the TFG group of companies, is the only authorised distributor of Gardner Denver products in the North East, including CompAir and Elmo Rietschle, and already has more than 300 clients on the books, stretching from the Scottish Borders down to Wetherby and across to Cumbria.
The company, which has nine office staff and 15 field engineers, is also a distributor of Hydrovane, Reavell and Elmo Rietschle compressed air and vacuum equipment.
After seeing turnover climb in recent years, ACB has now targeted Aycliffe Business Park as a prime new HQ, having already established deals with the likes of Primex Plastics, PTSM and Steel & Alloy in Aycliffe, as well as with the Veolia Power Station and Hydram Engineering in nearby Chilton and Wilson Art in Shildon.
"When we looked into, we only had a small percentage of clients from around our base in Dunston, and 70% of our customers were in DL, DH and TS postcodes, most of which are within a 20-mile radius of Aycliffe," explains Paul, pictured below.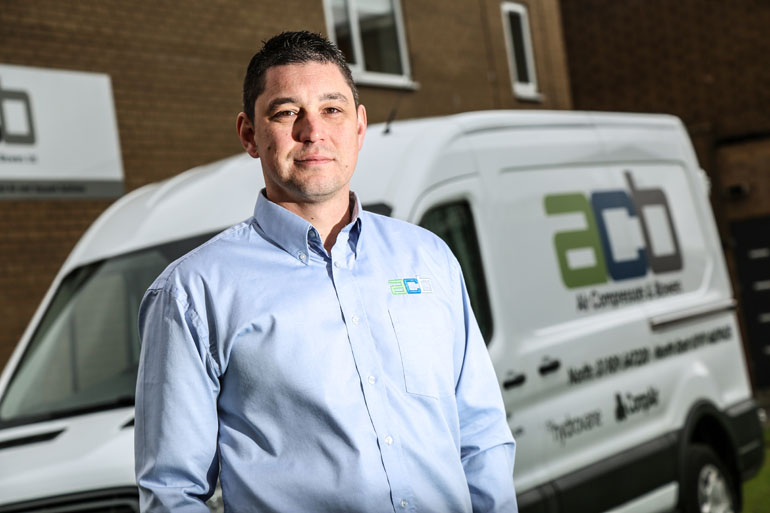 "We saw it as a natural progression for the business after four years of continued growth, to reaffirm the work we do with existing clients but to expand on that by establishing new customers.
"We've signed an initial three-year contract rolling to seven years, so we're here for the long-term."
Gardner Denver is a Worcestershire-based supplier of CompAir and Hydovane products, among others, covering the whole of the UK.
ACB is one of Gardner Denver's biggest One Air distributors, having been recognised with two sales awards by the supplier in 2017 – one for Northern Europe Downstream Distributor of the Year and the other for Regional Elmo Rietschle Distributor of the Year.
GD area sales manager Graham Read (pictured below, left, with Paul Sparke) said: "ACB is my largest distributor covering the whole of the North, so it's an important client, and Aycliffe is therefore a key area for us.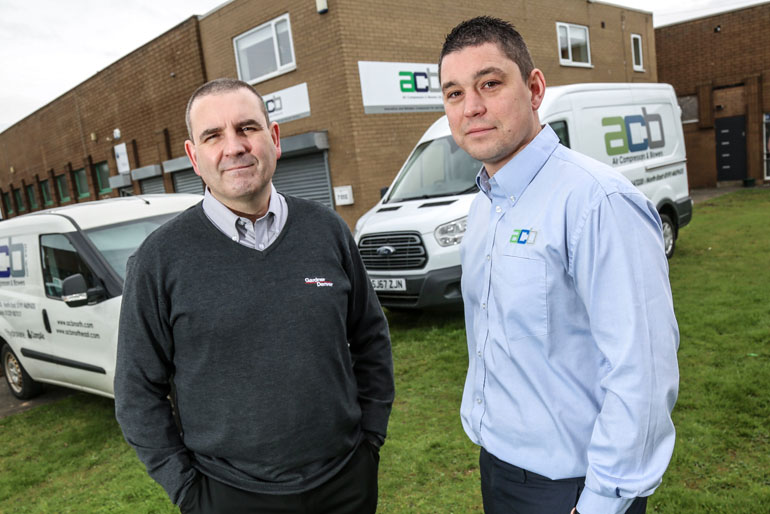 "Although it's a huge business park, there isn't the concentration of industry there is in the Leeds and Manchester areas, so I think there are more opportunities here due to less competition in our field."
GD has gained the energy management standard ISO 15001 accreditation and is one of the UK's biggest suppliers of air compressor products.
Graham added: "We also attend the annual Air Tech conference held at the NEC in Birmingham so in terms of our industry we're a leader.
"And ACB, as a One Air distributor, have access to all our products, so they can compress air from zero to 400 bar."
Paul, meanwhile, is back in familiar territory. He served his time as an apprentice toolmaker with Presswork Metals, now ROF 59 – just a stone's throw over the road from his new offices.
He then worked in sales for Woodside Pnematics, also based on the estate, which later became Air Channel, before leaving in 2009 to take up a sales role with CompAir. He then joined ACB, then based in Gateshead, as a director in 2014.
"I was given the opportunity to put a long-term growth plan together," explains Paul.
"The five-year plan was to assess our database and make the move from Gateshead to Aycliffe. I could see what was happening on Aycliffe Business Park around four years ago. I knew companies would start flocking to the park, with the arrival of Hitachi Rail Europe and the way Gestamp Tallent were growing.
"I knew it was going to be a challenge and something to get my teeth into. A lot of businesses were still suffering through the recession.
"But when I joined we turned over £790,000. My target was to hit a million, and we achieved that, then we did £1.1m and £1.2m, and this year we'll do around £1.4m.
"That's not down to me. The main part is down to the support we get from Gardner Denver, both in terms of sales and technical support but also with marketing.
"We also pride ourselves on one-to-one, 24-7 customer service and getting the job done in the quickest possible time for our clients, which has been another major factor in our success."
• To find out more about ACB's services, call 0191 460 9605, email [email protected] or visit www.acbnorth.com