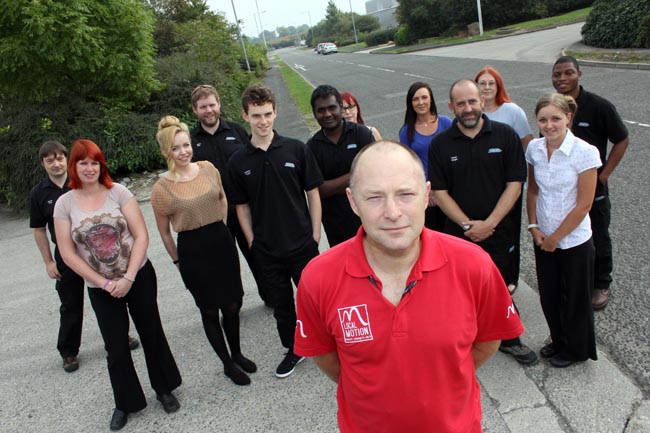 By Martin Walker
Employees on Aycliffe Business Park are taking to the roads as part of an innovative project to encourage sustainable transport.
Steve Shepperson is heading up the Local Motion project for Newton Aycliffe, with the primary aim of making it easier to walk, cycle and take public transport in the South of the county.
Steve has successfully taken several initiatives into companies on Aycliffe Business Park, such as the Watt Bike Challenge, where staff raced against each other on an electric cycling machine, and the Smoothie Bike experience, when employees and business owners could create their own smoothie by riding a specially-made bicycle.
Now he's holding weekly strolls around the park, encouraging workers to get out of the office for half-an-hour once a week.
Employees from Sabre Rail Services, North East Laboratory Supplies and Prefere Resins are now actively taking part, with on average 6-10 people enjoying a short walk every Thursday lunchtime.
"It's a fantastic way to get away from the office, get some fresh air and some exercise," says Travel Ranger Steve.
"It's not just about using sustainable transport to get to and from work, it's encouraging exercise and doing something useful with your spare time or lunch break.
"We're getting some great engagement from local businesses and employees – everyone seems to really enjoy it.
"There has also been quite a bit of discussion between North East Laboratory Supplies and Prefere Resins, with the staff discovering that their companies actually do a lot of work with each other, so it's been really good for the people to put faces to names."
Sabre Rail staff Claire Turnbull, Emily Bradley, Daniel Wright, James Skitt, Darren Pratt, Ashwin Kumar, Taiwo Oseni and Andrew Taylor have been regularly taking part in the walks.
Daniel said: "The walk is a good way of doing something away from the work environment with colleagues from Sabre and the added opportunity to meet others from within the Business Park, even though it might be for only 20 minutes it is a pleasant stroll taking in the developing area.
"I hope to meet other people from the other businesses in the coming months as we are neighbours and spend the majority of the waking day at our places of work, we may as well get to know each other."
James from Sabre Rail said: "It is a good way of working towards being healthier, it is easy to sit on the computer at lunch.
"But since we teamed up with Steve from Local Motion it has been a good motivator, to the point we are starting to organise a second weekly walk ourselves."
Tracy Smith, finance manager at North East Laboratory Supplies, added: "All of us at NELS think that the lunchtime walks are a brilliant idea. When you work on a large Business Park, it is so easy to turn up for work at the start of each day and go home at the end, and never leave the little bubble of the company you work for.
"These walks help us keep in touch with the amazing developments around us, and give us opportunity to talk to some of the people from the other companies on our doorstep.
"We really appreciate the hard work Steve has put in organising and promoting them."
Durham County Council's Local Motion project has been awarded £840,000 from the Department for Transport's Local Sustainable Transport Fund to further expand the project in 2015-16.
Cllr Neil Foster, Cabinet member for economic regeneration, said: "By supporting alternative ways of travelling, we make sure that people without cars can access more opportunities as well as reducing traffic and protecting our environment."