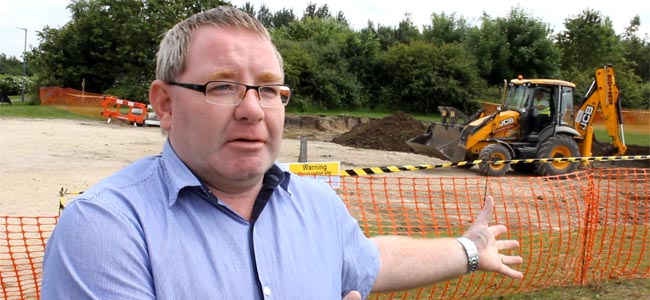 By Martin Walker
The chairman of the Horndale Residents Association (HRA) said it was a proud day as work started on their new £40,000 Multi Use Games Area.
Great Aycliffe Town Council has provided the land for the multi-use pitch which will accommodate basketball, five-a-side football, tennis and cricket and replaces a former sports changing facility along Greenfield Way, opposite Greenfield College.
But it has taken HRA two years to campaign and raise the cash to fund it.
As well as providing a useful facility for local people, it's hoped the MUGA will help to stamp out anti-social problems.
Phil Clark told Aycliffe Today: "Now we can actually see something and it's not bits of paper and cheques… promises and phone calls… it's now happening, and it's a very proud day for everyone who has helped out.
"We're hoping it will help to reduce anti-social behaviour. I'm not disillusioned to think this will eradicate it, but the idea is to get certain groups in to help organise events here over school holidays and summer nights so we can make something of it.
"We want to make a difference. I always use the words 'make our good places better places to live'.
"Sometimes I end up doing more work than when I used to work! But the drive is seeing this completed and having something that local children and the local community can use. This makes it all worthwhile.
"We just do it so we can make a difference to the community, it's as simple as that."
Go to our Video Vault to see our video feature on this story.
WORK STARTS ON £40K HORNDALE 'MUGA'