Thousands of people have passed through the doors of a new £1.1m leisure complex in its first two months.
Ten weeks since the activity centre opened at ROF 59 in Newton Aycliffe, just under 5,000 people have visited the former World War II munitions factory to sample its state-of-the-art attractions.
ROF 59 underwent a £1.1m redevelopment this year, rejuvenating the old Presswork Metals building on Durham Way South, Aycliffe Business Park, into a 21st Century entertainment and leisure venue.
The 70,000 sq ft centre, which includes a trampoline park, climbing wall, a restaurant and bar, has created 30 new jobs.
Among the thousands of people who have enjoyed ROF 59 already are youngsters from St Joseph's RC Primary School n Newton Aycliffe.
A 36-strong group of nursery and reception children aged three, four and five visited the site for a special four-hour activity day.
Nursery teacher Sarah Pilling said: "They absolutely loved it! They had a brilliant time and enjoyed some physical exercise which is fantastic.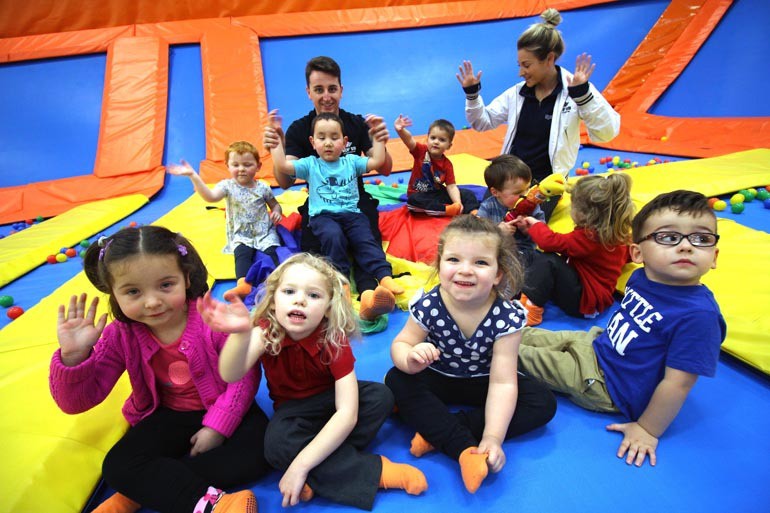 "The day included a carrousel of activities which was good for their personal, social and emotional learning, having to co-operate with each and negotiate the climbing walls, but also having fun along the way.
"We could see the children massively increase in confidence during the course of the day. Some of them were a little apprehensive on the trampolines first time around, but you could see when they went for a second visit they loved it!"
PE teacher Peter Ramsey left his job at King James I School in Bishop Auckland in the summer to take on the role of activity centre manager at ROF 59.
"We're delighted with the numbers that have come through the door in the first couple of months," said Peter, who has also worked as a school sport co-ordinator for Wear Valley and Teesdale School Sport Partnership.
"My role is to get engaged with schools and local groups and we're getting at least one school every week visiting us, which is great.
"We get quite a few schools coming here who have children with special needs and they use ROF 59 for the social aspect of it, getting the youngsters out of their usual environment which helps to stimulate them and increase their confidence and self-esteem.
"ROF 59 provides a unique venue for all children to come and get some exercise, have fun and learn at the same time."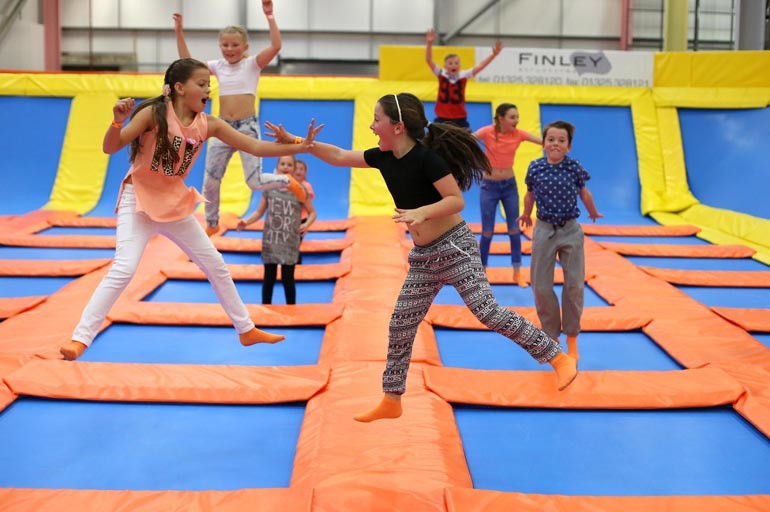 ROF 59 has been built on the site of the former Presswork Metals factory after Finley Structures invested more than £1.1m in creating the new facility, which created 15 full-time and 15 part-time new jobs.
Almost £750,000 was spent on constructing a new steel frame for the 70,000 square foot site and a further £400,000 was spent fitting it out.
ROF 59 now includes the Blitz restaurant as well as the Bunker bar/lounge, a huge park of 75 trampolines and a series of adventure climbing walls for climbers of all abilities – including Rock Antics which has one of the biggest walls in the country, standing at 20 metres tall.
Bounce at ROF 59 costs £10.50, which includes socks, with sessions held daily, Mondays and Fridays 10.30am-8.30pm and Tues-Thurs and Saturdays 10.30am-8.30pm, with Sunday sessions 10.30am-4.30pm. It's restricted to children aged 6+, but toddler and sibling sessions are also available.
Adventure Climb at ROF 59, costs £7.50 and sessions are held Mondays and Saturdays (10-9pm) and Sundays (10am-5pm). There is no age limit on this activity but please be aware that children under 4 may not be able to take part unless they can fit securely into a harness.
Party bookings can also be made and vouchers are available.
For all bounce enquiries and bookings at ROF 59, call 01325 728222 or email [email protected]