A County Durham manufacturer is now producing plastic parts for the automotive, pharmaceutical and aerospace sectors much quicker after investing in a state-of-the-art CNC machine.
Plastic Mouldings Northern (PMN) invested £300,000 in the MAKA 5-axis tool which enables the company to trim parts more efficiently after moulding them.
Using the advanced software HyperMILL, which is designed specially for intricate 5-axis machining, the German-made, twin-table MAKA is capable of trimming 3m by 1.5m and 0.5m deep parts with tolerances of 0.1mm, and complements PMN's range of plastic vacuum forming machines.
It comes after the firm, which employs 20 people at its premises in Bishop Auckland, invested in a Geiss moulding machine which can mould products 3.5m by 1.5m using material up to 12mm thick.
Plastic Mouldings Northern CNC process operator Anthony Winter is pictured (above) with plastic parts finished by the firm's 5-axis CNC machine.
PMN also invested in a new industrial thermoforming machine last year, and production director Mark Rigg said: "This has been a major investment for the company as it gives us a bigger range of capabilities.
"Designed specifically for the machining of thermoformed and composite components, the MAKA gives us the ability to consistently finish complex trimmed mouldings, in a fraction of the time required by manual methods.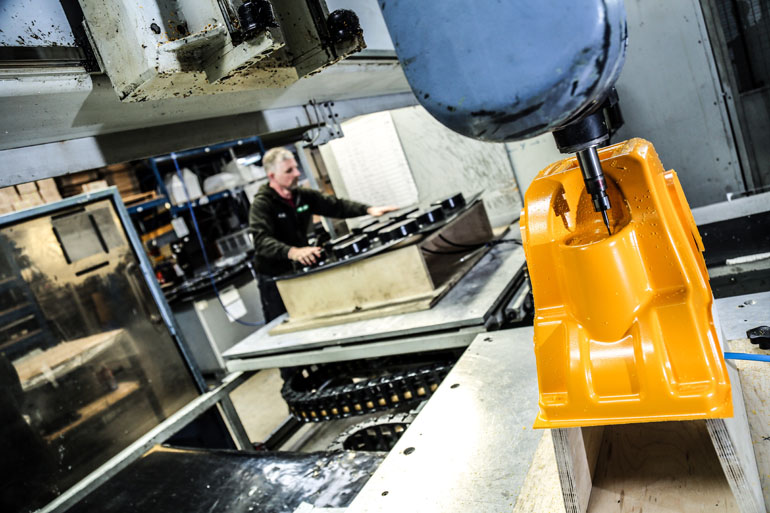 "The tandem table gives us the capability of running two separate jobs at the same time. It's also a faster machine and it has more versatile options on it.
"Using HyperMILL and CAD software, the MAKA is capable of trimming 3m by1.5m by 0.5m deep with tolerances of 0.1mm. It goes hand-in-hand with our larger moulding machines, which means we can mould and trim to larger sizes that not many companies can do in the North of England.
"Previously we had five or six people finishing products. Now we have one using that machine. But we've relocated those employees into other areas of the business so we haven't lost any staff as a result."
Combined, PMN's machinery can be used and adapted to accommodate a range of domestic and industrial parts for refrigerator liners, bath tubs and shower trays, interior and exterior automotive parts, fuel tanks and panels for special vehicles.
PMN supplies DIY chains including Homebase, B&Q and Wickes, and it also manufactures parts for the automotive industry, with clients including Bentley, Jaguar Land Rover, JCB and Rolls Royce.
The company has also built up an industry reputation for supplying Jouplast adjustable risers, which ensure decking and paving slabs sit even, having previously gained an exclusivity agreement to distribute the equipment across Britain.
The company, formed by Mark Rigg and sales director Freddy Bourdais with two staff in 2002, celebrated 15 years in business in 2017 with a record turnover, as sales grew 10% to £2.3m and staff numbers rose to 20.
More details about Plastic Mouldings Northern can be found at plasticmouldingsnorthern.co.uk, or you can give the team a call on 01388 777 700.