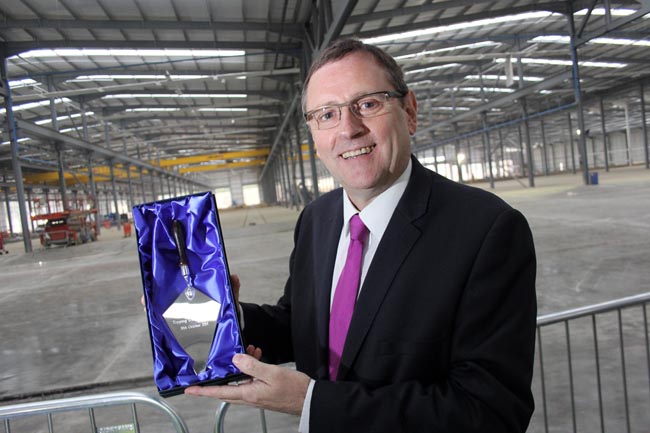 By Martin Walker
MP Phil Wilson says Merchant Park Developments' ambition to bring 4,500 new jobs to Newton Aycliffe is "fantastic".
MPD director Geoff Hunton told us his plans for Merchant Park 2 and 3 should bring thousands of additional jobs to Aycliffe Business Park.
The Labour MP for Sedgefield, Mr Wilson, campaigned tirelessly to help bring Hitachi Rail Europe to Aycliffe.
And that has arguably been the catalyst for the whole of the Merchant development, which will make Aycliffe Business Park the biggest industrial estate in the North-East and one of the biggest in the country.
Mr Wilson told Aycliffe Today: "It's a fantastic ambition.
"There's a lot of potential here in Newton Aycliffe. 4,500 additional jobs, on top of what we have now (about 8,500) and that's not including the 750 jobs that we know are coming here.
"This is now the biggest industrial estate in the North-East of England, which is something we can be really proud of, and I just want to see it go from strength-to-strength."
Mr Wilson was presented with a commemorative trowel during Hitachi's topping out ceremony on site last week.
He added: "This is an £82m investment. They're going to build trains for the East coast mainline and they've recently won a contract to build commuter trains for Scotland.
"The long-term objective is to start exporting trains to the rest of Europe.
"I would like to see Aycliffe expand even more. It's not going to happen overnight, but it'd be great to see even more jobs here, more contracts being won and for this to become the Nissan for the South of the region.
"95% of jobs here are going to be recruited from within a 50-mile radius of Newton Aycliffe, so the potential for local people is fantastic, especially with the University Technical College that's going to be built, to ensure local young people can get Apprenticeships here – the next generation of technicians and engineers."
Go to our Video Vault to see our interview with Mr Wilson in full.