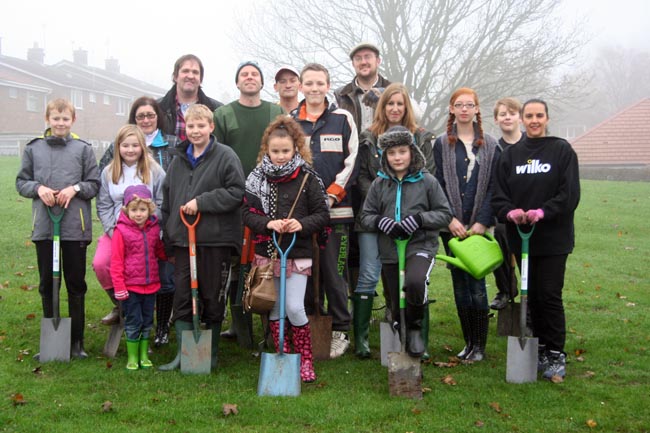 They called it the Big Dig – and so it was!
About 20 people had answered an appeal by Woodham Wildlife Club to help them plant 450 trees around the perimeter of the school.
Among those braving the freezing fog and muddy puddles were pupils and parents, staff members and volunteers from Wilkinson's Helping Hands committee.
Many had arrived carrying their own spades, and wellies were definitely the fashion accessory of the day.
Despite the gloomy weather the participants were excited by the prospect of being able to be part of something which could potentially last a lifetime, and longer – considerably longer – in some cases.
The trees had been donated by the Woodland Trust as part of their annual nationwide tree planting campaign.
The club had stored them in a shed in the school's outdoor classroom (a specially landscaped courtyard where students can relax as they learn), and had been anxiously keeping an eye on the weather since their delivery.
The trees are all native broadleaved trees and include, amongst other varieties, holly, beech, wild rose, crab apple and hazel.

They have been chosen for the task because (unlike many of the imported conifers which cloak our hillsides) they provide the best range of support for Britain's indigenous animals.
It is also hoped that increasing the tree cover on the site will create a wildlife corridor for mice and voles etc., as well as providing over-wintering opportunities for hedgehogs, frogs and toads.
It took three hours to get all of the trees in, and by the time the task had been completed the volunteers were looking tired, but satisfied.
The Big Dig may have been over, but the pupils still had more tasks ahead of them as they continue with their ambitious plans to give their school a wildlife makeover.
Over the winter they will be busy installing bird boxes and feeding stations, as well as hedgehog homes and a number of other such hibernacula.
Then, before you know it, the first shoots of spring will be visible and Woodham Wildlife Clubbers and their community supporters will be out in force once again, laying the first of their wildflower patches.