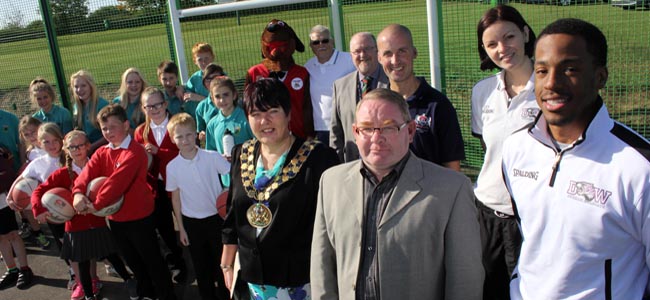 By Martin Walker
A £40,000 Multi Use Games Area at Horndale Park in the town was officially opened on Thursday.
The Mayor of Great Aycliffe Town Council, Cllr Wendy Hillary, joined the Horndale Residents Association as well as representatives from Newton Aycliffe Football Club and Durham Wildcats to mark the opening.
Determined members of the Horndale Residents Association (HRA) have relentlessly campaigned and fundraised over the last two years to finance the facility, known as a MUGA.
Great Aycliffe Town Council (GATC) has provided the land for the multi-use pitch which will accommodate basketball, five-a-side football, tennis and cricket and replaces a former sports changing facility along Greenfield Way, opposite Greenfield College.
Support from a host of people and agencies has also helped to bring the project to fruition.
In a Video Interview with us, Cllr Hillary told us: "I think it's a wonderful facility for the children and young people in the area.
"What I also think is particularly brilliant is the faith Horndale residents have had in their youth, where they've campaigned and pulled together, and that has been the primary purpose of the Horndale Residents Association.
"They've brought the town council on board, the County Councillors, livin and have got funding from all over the place to create this, and I just think it's a wonderful effort they've put in."
Horndale Residents Association chairman Philip Clark said: "We were set up in October 2012 with the sole purpose to build a MUGA for the young people, and this is two years of hard work by a lot of people coming to fruition.
"Thanks goes to GATC and its staff whom without their commitment and belief from the beginning, and on the future upkeep of the facility, the project would probably never have been completed."
CLICK HERE TO SEE OUR VIDEO FEATURE
Those who have supported HRA's campaign include Newton Aycliffe Rotary Club, Great Aycliffe and Middridge Partnership (GAMP), ROC Solid, Aycliffe Youth Council, Honest John, Tyne Tees Crushing, livin, Christ's Hospital Sherburn, Neville Community Centre, Newton Aycliffe Evangelical Church and County Durham Police.