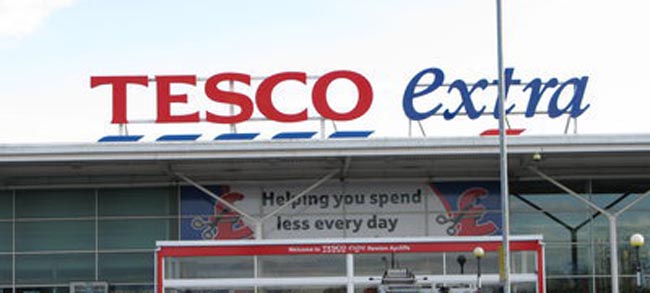 Britain's financial watchdog has launched a full investigation into the Tesco accounting scandal that has now wiped £4 billion from the troubled grocer's stock market value.
Tesco, Britain's biggest grocer and the world's third-largest retailer which has a store in Newton Aycliffe, announced on 22nd September that it had overstated first-half profit by £250 million – effectively its third profit warning in two months.
The news of the Financial Conduct Authority investigation sent Tesco's shares down 3% to 180p this morning, reported Reuters.
That was the stock's lowest level since 2003, with the price down 21% since the accounting mistake was disclosed.
"Tesco will continue to co-operate fully with the FCA and other relevant authorities considering this matter," the company said in a statement.
The accounting error highlighted the scale of the challenge facing new Chief Executive Dave Lewis, who joined the 95-year-old business on 1st September, three days after a previous profit warning on 29th August.
"Such an investigation (by the FCA) can only be another distraction for new CEO Dave Lewis and represents another black mark on the board," Shore Capital analyst Clive Black said.
Lewis is firefighting on multiple fronts. Industry data shows that Tesco is the worst performer of Britain's so-called Big Four grocers, which also includes Wal-Mart's Asda, Sainsbury's and Morrisons, with its market share dropping to 28.8% at 23rd September from 30.2% a year earlier.
A two-decade run of uninterrupted earnings growth began to unravel as Tesco started losing British market share to German discounters Aldi and Lidl, as well as upmarket rivals Waitrose and Marks & Spencer.
The company's shares, meanwhile, have lost half of their value in the past 12 months.
Tesco, which has more than 500,000 employees, now has a market capitalisation of £14.6bn, against nearly £19bn before the accounting scandal emerged.
In the wake of the profit overstatement revelation, which related to the miscalculation of rebate payments from suppliers, the company suspended four senior executives and launched its own investigation, calling in forensic accountants and lawyers.
The company said in its statement that the FCA's investigation will be in addition to the independent review already being conducted by accountant Deloitte.
Further scrutiny of the grocer could also come from British lawmakers. The chairman of a parliamentary committee said last week that he might want to grill Tesco's top executives about the accounting scandal.
Separately on Wednesday rival supermarket chain Sainsbury's cut its full-year sales forecast after trading fell sharply in the second quarter.