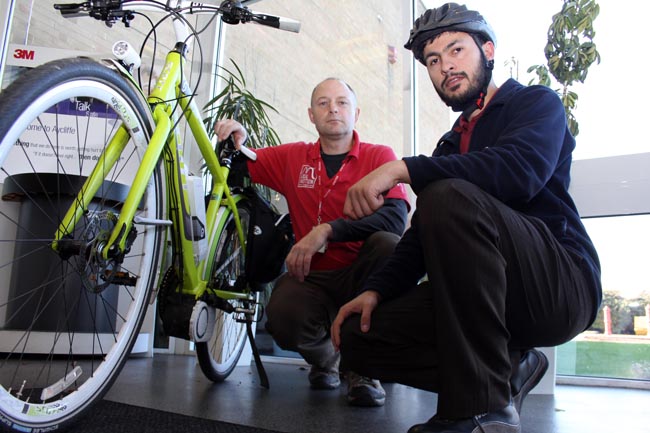 By Martin Walker
Staff at 3M got on their bike when Travel Ranger Steve Shepperson popped in to visit the factory.
Steve is heading up the Local Motion project for Newton Aycliffe, with the primary aim of making it easier for people to walk, cycle and take public transport in the South of the county.
Steve has successfully taken several initiatives into companies on Aycliffe Business Park, such as the Watt Bike Challenge, where staff raced against each other on an electric cycling machine, and the Smoothie Bike experience, when employees and business owners could create their own smoothie by riding a specially-made bicycle.
He also holds regular weekly strolls around the park, with employees from Sabre Rail Services, North East Laboratory Supplies and Prefere Resins taking part in the lunchtime walks.
Steve's latest bit of travel kit to treat workers is state-of-the-art electric bicycles, which enable cyclists to get around but without using as much effort.
Staff at 3M, North East Laboratories Supplies, Evans Business Centre and Prefere Resins – as well as at Smurfit in West Auckland and PPG in Shildon – have been test riding the bikes.
"They're a great way for people to get around," says Steve, pictured (above, left) with 3M product equipment engineer Reyad Abdulqader.
"You still have to pedal but they assist you in the peddling and you can vary the amount of power through different modes.
"If you're struggling into the wind or up a hill you can change the setting to give yourself more power.
"They do help you travel a bit faster, so they cut down your journey times and also you're arriving at your destination not quite as hot and sweaty as you might on a conventional bike.
"It can be enjoyable as well. Some people might think 'what's the point in an electric bike if bikes are to help you keep fit', but it's more about encouraging people to use sustainable methods of transport, and the electric bike is an ideal mode of transport for all sorts of cyclists.
"I've seen about 10 people on electric bikes in Newton Aycliffe already, varying from youngsters up to pensioners.
"I was talking to one gentleman who'd had a knee operation he's finding the electric bike to be ideal for him to get out and cycle again as he recovers from the operation.
"They're beneficial for people who want to use them for a specific purpose, not necessarily just getting from A to B or to keep fit."
Reyad Abdulqader tried out the bikes, and said: "It was a lot easier to cycle and was surprising how much power the pedalling generated.
"It effectively takes the terrain out of the journey which will make it much more easy to get about."
The electric bikes vary in prices from £800, but healthy discounts are available through the cycle to work scheme.
And there has never been a better time to start cycling – the South Durham area has more dedicated cycle routes than ever before, with paths along major roads, in town centres and off-road leisure parks, there are cycle opportunities for work, leisure and pleasure.
Cycling can also help you to:
• Save money
• Get fit and improve your health
• Help the environment
• Travel at your own pace
• Increase your concentration
• Get to know your local area, and
• Have fun
Local Motion has been running for two years and earlier this year was awarded £840,000 from the Department for Transport's Local Sustainable Transport Fund to further expand the project in 2015-16.
Steve added: "It seems to be taking off all the time. We're getting new companies on board, wanting to know what we're all about, so it's going really well.
"Sabre Rail have just completed a cycle to work scheme survey and about five or 10% of their employees have taken up the scheme, so they're keen to see what we can do for them and they're really keen on building some cycle shelters."
• Anyone interested in getting involved in the Local Motion can contact Steve on 07827 307812, 03000 268007 or email [email protected]