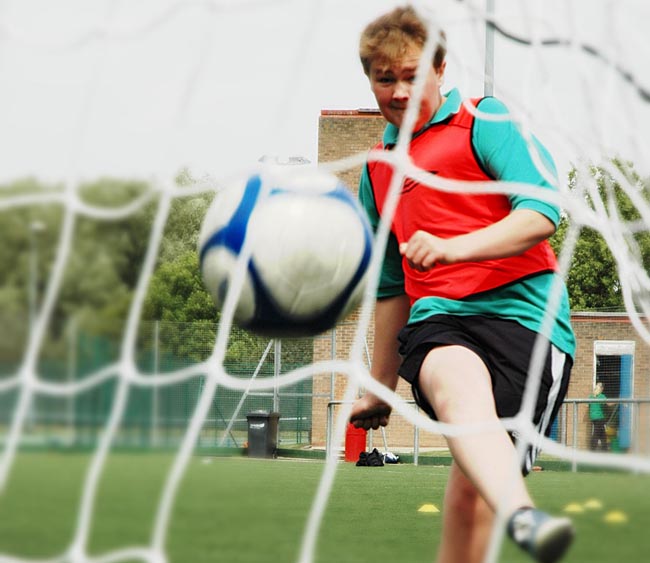 A popular sport facility in Newton Aycliffe is set for a major refurbishment thanks to funding received from Great Aycliffe and Middridge Partnership (GAMP).
The well used 3G Pitch at Greenfield Community College opened in 2004 and has over 50,000 visits a year; however, as a result of the high demand the current 8-a-side floodlit 3G surface is now becoming worn.
GAMP has allocated Area Budget funding and a contribution from the Neighbourhood Budgets of Cllrs Eddy Adam, John Clare, Mike Dixon, Joan Gray, Jed Hillary, Kate Hopper and Sarah Iveson, along with substantial match funding from Greenfield Community College to provide a new playing surface.
Greenfield Community College is a well-established site for Community Sport. Since the opening of the current football facility in 2004 a number of strong partnerships have been developed, these partners use the 3G pitch regularly, and are growing each year. Partners include: 3 Football Clubs, 12 Primary Schools, Martin Gray Football Academy, Sedgefield School Sport Partnership, and many community groups of all ages.
The 3G Football Facility is also available and staffed for over 40 hours per week for community use, 5pm to 10pm Monday to Friday, and weekends from 8am.
Brian Riley, GAMP coordinator, said: "This is a fantastic project that will provide a first class sports facility for Greenfield Community College and provide a valuable resource for the whole town."
David Priestley, Executive Headteacher for Greenfield Community College, added: "The first ten years have been about building a community sporting culture of participation and strong club links across the area.
"It is our plan over the next ten years to sustain participation rates, introduce more girls and women to football, increase the number of disabled users, and develop more coaches and more competitive opportunities for all."
It is anticipated that work on the new 3G Pitch will begin over the summer with the new facility opening in early autumn.