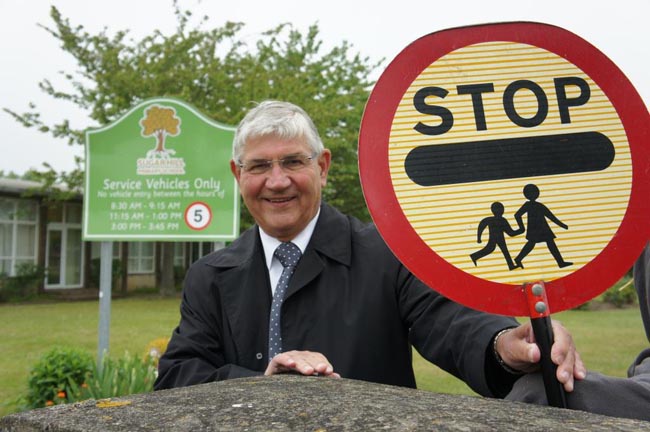 Speed limits could be reduced to 20mph on roads near two Newton Aycliffe schools if councillors approve the proposal.
Members of Durham County Council's Cabinet will be asked next week to agree a new approach to establishing 20mph limits and zones at several schools across the County – including Sugar Hill and St Mary's on the town.
Only two such zones and one limit have been introduced in the county during the past 10 years.
However, the authority is reassessing its policy following a review by the authority's Safer and Stronger Communities Overview and scrutiny Committee.
Just last month, Durham's Police and Crime Commissioner Ron Hogg (pictured above outside Sugar Hill School) said he was in favour of introducing 20mph speed limits in the vicinity of local schools.
The proposed new approach would see part-time 20mph speed limits come into force on roads near 33 schools where the highest number of accidents involving children have occurred. In some areas, traffic calming measures could also be introduced.
This would be accompanied by an educational programme which would have three strands – making children more road aware; promoting cycling and walking as alternatives to driving; and promoting speed awareness among motorists.
Cllr Brian Stephens, Durham County Council's Cabinet member for neighbourhoods and local partnerships, said: "Although road casualty numbers continue to fall in County Durham, new national guidance gives us the opportunity to introduce measures to limit speed in built-up areas.
"We are proposing to implement these measures on roads around those schools where the accident rate is double the average.
"Our aim is not only to reduce the number of accidents, but also to promote a healthy and active lifestyle by encouraging people to cycle or walk instead of using the car."
Overall, road casualties in the county are lower than national levels, with last year seeing the fewest number of casualties since 1979.
However, 86% of accidents involving children and young people occur within a 600-metre radius of a school.
If the proposals are agreed by Cabinet when it meets at County Hall on Wednesday, 17th December, residents, schools, AAPs and other groups would be consulted before any 20mph zones are introduced.