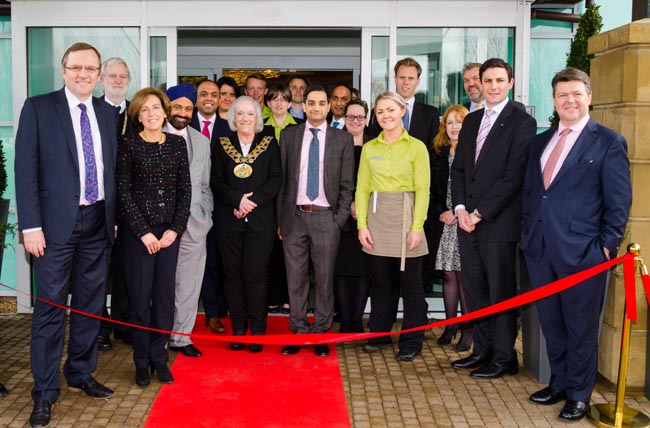 Aycliffe Today editor Martin Walker takes a look back at 2014, reviewing April and May…
April
• Aycliffe detectives are set to pioneer state-of-the-art spying technology that enables them to watch criminals in their own homes – but is 'Polar Flair' all what it seems? The story is later revealed to be an April Fool joke.
• The Aycliffe Business Park Community (ABPC) reveal plans to set up task groups to involve more hands-on businesses to focus on key areas, as part of a 'shaping the future' initiative.
• World-renowned group Holiday Inn opens a refurbished hotel on the site of the former Aston Hotel just off the A1 (pictured above) – MP Phil Wilson cuts the ribbon.
• Newton Aycliffe's Northern League team retain their first division status despite losing for the eighth time in a row.
• The town's cricket club unveils Frank's The Flooring store as their new short sponsor for the 2014 season.
May
• Police hunt sick thieves who steal female underwear from a Newton Aycliffe garden.
• Allan Oliver steps down as Aycliffe FC manager and takes over as chairman, handing the managerial reins to star man Dan Mellanby.
• State-of-the-art, low-cost gym, One Gym, opens on Aycliffe Business Park.
• Newtonian hair stylist Victoria Cartwright opens hair extensions studio, Lox of Love.
• Aycliffe Today exclusively reveals that the troubled Woodham Golf Club is sold to an unnamed investor.
• Hitachi hosts a special ceremony on its site as 2,000 tonnes of steel begins to change the landscape forever on Aycliffe Business Park.
• Teenage thug Lewis Gash is jailed for four years after being found guilty of wounding with intent during an incident outside DL5.