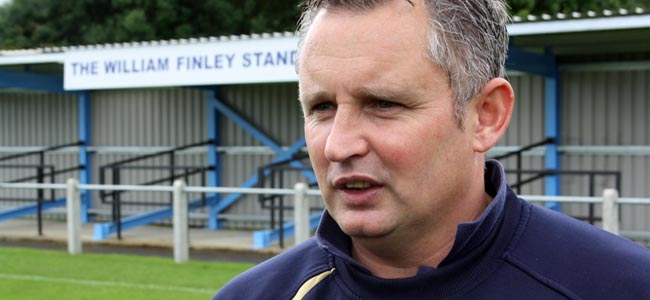 By Martin Walker
Ex-Aycliffe coach Brian Atkinson (pictured) joins rivals Spennymoor, snow causes traffic chaos in Aycliffe, and plans for an exciting new £32m golf club are revealed in another busy month for Aycliffe Today.
We continue our series of monthly reviews, looking back on a memorable debut year for Newton Aycliffe.
FEBRUARY
In business news, Aycliffe electronics company Filtronic, which makes products for the mobile phone market, reported sales of £10.5m, up from £7.3m a year earlier, but pre-tax losses rose to £2.3m from £1.2m. Click here to read more.
An inquest heard how Newton Aycliffe man Philip Dawson took his own life after his partner was arrested for breaching a sexual offences prevention order. Read more.
Aycliffe police launched an appeal to hunt a gang of yobs who viciously attacked a 14-year-old boy and left him with a broken nose and cracked teeth. Read more.
Around four to five inches of snow fell on Aycliffe and caused traffic chaos in the town. Read more.
Meanwhile, Middlesbrough goalkeeper and Newtonian Jason Steele gives his first video interview to Aycliffe Today. Read more.
Tributes are paid to Aycliffe Councillor Terry Hogan, who passed away in February – click here to read more – while plans for an exciting new indoor five-a-side complex, the Soccer Factory, is given planning permission by Durham Council. Read more.
A Westminster fracas results in Sedgefield MP Phil Wilson, an innocent party in the mix-up, being elbowed – read more here – and ex-Aycliffe coach Brian Atkinson is appointed the new assistant manager at title-chasing Spennymoor. Read more here.
Aycliffe firm SCH Site Services moves into new £500,000 premises on Aycliffe Business Park, and plans for a new £32m golf and housing complex at Woodham Golf Club are submitted to the local authority for approval. Read more here.
March was another busy month for Newton Aycliffe – more reviews will follow on Aycliffe Today over the next few days.