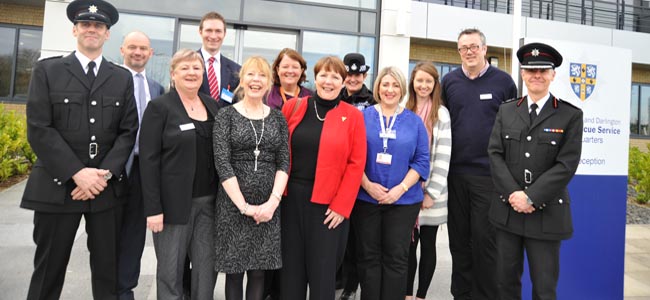 An important collaboration between the fire service and local housing providers will see sprinkler systems fitted in homes across County Durham as part of the Safer Homes' project.
The agreement, announced during the Safer Homes' week of action last week, is a first for the area and an exciting development in home fire safety.
The initiative is set to make hundreds of people safer as £160,000 is invested in domestic sprinkler systems from the Safer Homes award, won in a bid to the government's Fire Transformation Fund in September last year.
The sprinkler systems will be fitted in homes owned by eight housing companies.
These companies are each investing £20,000 of their budgets into the scheme to install 'Secured by Designed' crime safety devices.
This will bring the total investment in this element of the Safer Homes project to £320,000 in home fire and crime safety measures for vulnerable and older people.
The companies who have joined the scheme are: Cestria Community Housing Association, Dale and Valley Homes, Derwentside Homes, Durham Aged Mineworkers Housing Association, Durham City, Homes, East Durham Homes, Four Housing and Home Group.
Rob Cherrie, project manager for Safer Homes, County Durham and Darlington Fire and Rescue Service, said: "This agreement with housing providers to fit domestic sprinkler systems is a major breakthrough in fire safety for County Durham.
"We hope that one day sprinkler systems will become as ubiquitous as smoke alarms are now – saving more people and their properties from harm.
"This project is the first significant step towards this goal and we are very grateful to all of the housing companies who have recognised the benefits that sprinkler systems provide to their tenants."
For more information about the Safer Homes' project, to request advice about domestic sprinkler systems or to book a fire/crime safety assessment, please contact County Durham and Darlington Fire and Rescue Service: 0191 375 5561 or 0845 223 4221 (calls charged at local rate); email [email protected] or got to www.ddfire.gov.uk