A 150-year-old steel castings company is upskilling staff with the help of a Newton Aycliffe training firm.
County Durham-based Bonds, which was first established in 1868, enlisted 15 employees on Btec level 2 and ILM (Institute of Leadership and Management) training programmes through Aycliffe-based AS Training.
Six members of the sales department gained qualifications in Principles of Sales, accredited through Edexcel, while nine team leaders completed their Certificate in team leading, accredited by the Institute of Leadership and Management ( ILM)
Bonds, which incorporate three sites including Bonds Foundry at Tow Law, Bonds CastTech at Crook and Bonds Precision Castings in Cumbria, now plan to progress their staff to further education while also encouraging others to gain new training and qualifications.
Director Melissa Duncan said "We've been looking at skills and succession plans, because we want this company to continue for another 150 years, and although we have invested in individual training before, this is the first time we've put a group of employees onto a long-term training programme .
"So this was a cautious first step for us, and I'm delighted to say the staff has completely exceeded our expectations.
"AS Training have been a great support to the business and have allowed us to experiment with this different approach."
As part of their training, Bonds' sales team completed seven modules over four months, while nine team leaders completed 12 modules over six months.
The firm's HR manager Pauline Gordon, pictured (above, right) with AS Training boss Steve Foster and Bonds sales executive Josh Kershaw, added: "All employees have put in a great deal of time and effort.
"They have all embraced and engaged with the training, making it successful and enjoyable and it will benefit both them and the company in the long run.
"Without AS Training this wouldn't be possible. They delivered two very excellent programmes and the staff gained the knowledge required to get them the qualification."
AS Training director Steve Foster says other firms, including those situated on Aycliffe Business Park, can now benefit from the Level 2 training programmes, which are government-funded.
He said: "Bonds have found this exercise to be of huge benefit to the company.
"Their staff showed complete dedication to completing this training and not only have they come out of it with a well-recognised qualification it will also improve their confidence levels and performance at work which ultimately improves the business."
AS Training, based at Bede House on St Cuthbert's Way for more than three years, can access funded training for businesses in a variety of areas, including leadership and management, coaching and mentoring, psychological profiling for all staff, Customer Service, Business Administration, Accounting, IT, Lean manufacturing and engineering.
The courses are funded by the European Social Fund's Skills Funding Agency and range from 10 to 40 hours of learning over a set number of weeks.
They also offer customised training programmes to satisfy customer requirements.
AS Training, headed up by Steve, specialise in leadership and management performance and performance coaching, Level 2-7 and are accredited to the ILM, City and Guilds, NCFE and EDEXCEL (Pearsons).
Steve, an engineer by profession, worked in manufacturing management for more than 20 years and has 15 years' experience in further education. He has also carried out work for Sunderland and Bradford universities.
All AS Training staff are qualified trainers in their own field with experience in both the public and private sectors, and bring a wealth of training knowledge to Aycliffe Business Park,
• To contact AS Training, give them a call on 01325 788141, email them at [email protected] Or for more info about them, go to www.as-training.co.uk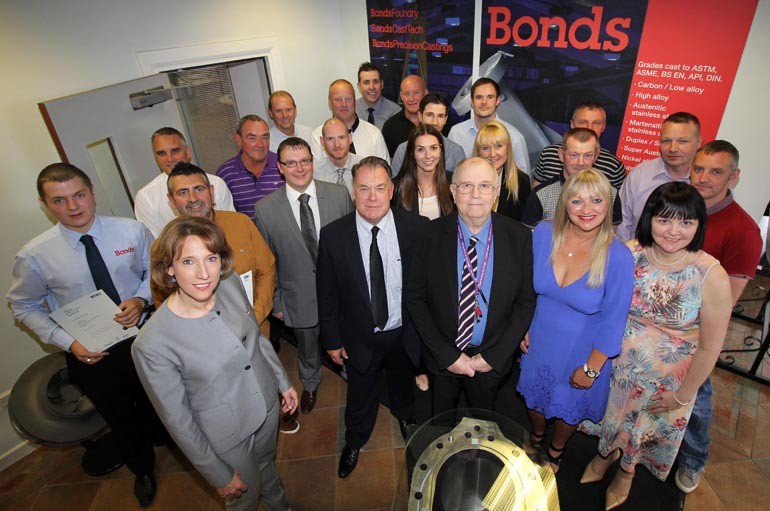 • AS Training's Steve Foster, Allain Lee and Wendy Matthews with Bonds director Melissa Gordon, HR manager Pauline Gordon and employees who've successfully completed their Btec level 2 training.