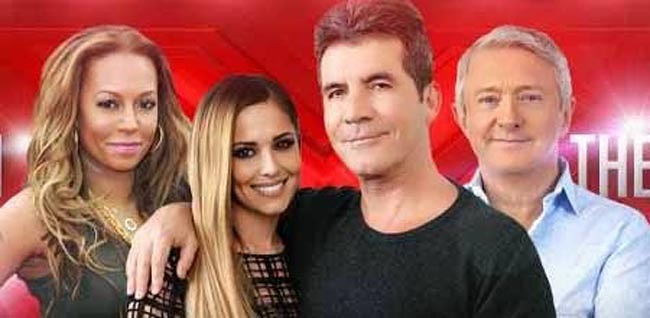 Aycliffe Today's Zoe Skerrett reviews the first week of the new X Factor…
The X Factor is back! There's new judges, new audition rooms but as usual, plenty of contestants you have to laugh at.
Returning judges Simon Cowell and Cheryl Fernandez-Versini, newbie Mel B and, as always, Louis Walsh have to sort through the best and worst singers and 11 series later we still love it!
The age limit was lowered to 14 this year and it seems to be the youngsters that are stealing the limelight.
Fifteen-year-old Reece Bibby turned Disclosure's Latch into something incredible and unrecognisable with his acoustic twist and cute-as-a-button Charlie Jones, 14, stole hearts with One Direction – Little Things.
Not just boys, 17-year-old Chloe O'Gorman had natural soul singing Joss Stone – Right To Be Wrong and Lauren Platt got four yeses with I Know Where I've Been by Queen Latifah.
Unfortunately, some hopefuls' dreams were over before they even picked up the microphone. Aware of their less than average vocals, they brought something new to the table to try win the votes.
Angelina Robinson, 52, sung All I Have To Do Is Dream while her mum served a Chinese banquet, Carol Trevarthen, 63, stripped off when her version of Simply The Best didn't get a positive reaction and pianist-songwriter Shayden Willis sang his own song that forced all but Simon Cowell to leave the room.
With groups hoping to follow the footsteps of JLS, Little Mix and One Direction, they pulled out all the stops in order to impress. Armed with a guitar, Only The Young performed a modern twist on Elton John's Something About The Way You Look Tonight.
Completely blown away by the performance, Simon said: "Now that's how you do an audition – I was hooked for the whole song. Amazing!"
Concept, a five-piece boy band performed Earthquake by Labyrinth. A song by a solo artist is sometimes tricky for a group but the boys pulled it together and shared the harmonies to perfection!
Also through to the next round were chicken shop rehearsers Arize. Performing Little Me by Little Mix, it reminded me of Destiny's Child and the classic girl band is something I need to see again.
Kitten and The Hip weren't as successful. Husband and wife, 28 and 53, sung Shut Up And Dance but the judges thought that sassy Kitten would be better off alone. Although Louis put his foot in it thinking they were father and daughter, fame-hungry Kitten didn't waste a second to agree to separate. Ironically before the audition she said to her husband "I wouldn't stand a chance without you.".
There weren't many Over-25s I enjoyed but Jay James, 30, stole my heart with his acoustic version of Say Something. The sense of passion and desperation won him a place into the next round and even made Mel B cry.
Finally, the last act was Linzi Martin. One-fifth of Simon's band Girl Thing 16 years ago, the 33-year-old saw this as her last chance. After a croaky audition Louis and Mel opted to continue her dreams while Simon and Cheryl were less convinced. After not wanting to give her false hope Simon said no and Cheryl described it as the worst audition ever.
With many cheers and just as many tears, the first weekend of the X Factor is over.
My ones to watch from this week are the band dubbed the next Steps, Only The Young, acoustic guitarist Reece Bibby and Jay James but only if he loses the slippers in the next round.
Wear some proper shoes!