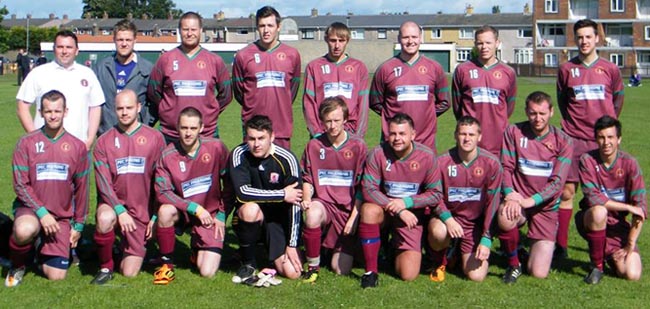 Argos DH1 1, Newton Aycliffe Sports Club 3
By Paul Eales
This weekend saw Newton Aycliffe Sports Club FC in more cup action, this time, The PMA League Cup against Division One league leaders Argos DHL.
With both sides undefeated in their relevant divisions this had the markings of a good cup tie with bragging rights to play for.
The game started brightly, with both sides trying to stamp their mark on the game from the early stages.  It was on 10 mins when the deadlock was broken, Argos/DHL got to the byline and managed to get a cross into the six yard box, which keeper Chris Palmer flapped at as the ball fell to the home side to slot home to make it 1-0.  Aycliffe Sports Club quickly regrouped and started to dominate the midield battle, with Paul Cook and Ryan Stonehouse taking control in the centre with good passing football and tough tackling.
A corner on the half hour mark, dropped neatly onto the penelty spot and saw Centre Half (and Captain for the day) Mark Craggs rise higher than his marker to head home the equalizer and his first goal of the season. Aycliffe finished the half on top, looking the more confident of the two teams, but the half ended all square at 1-1.
The second half started much as the first had ended, with the Sports Club looking to edge ahead and dominating the midfield battles and defending well against the odd attack the home side offered, with Gareth Boyes, filling in at Centre Half, dominating at the back.  Both Full backs also managed to get in on the action, with Adam Gittins inparticular working the left hand side with enormous energy.  The lead was finally taken with just 10 minutes remaining, Ryan Stonehouse holding off the Argos Midfield after good work from Jon Hughes on the right and slotted the ball through to Chris Jones who ran at the defence with pace, rounded the keeper and slotted home his first of the game.
Argos DHL lifted themselves and advanced on the Sports Club to try and get the equaliser, camping in their half for the next five minutes and with only a minute or two remaining forced an all important corner kick.  This saw the home sides keeper come up for the corner to try and make numbers count and sneak an equaliser to take the game to extra time.  However, Sports Club cleared to Chris Jones who used his pace to run clear from the half way line into the home sides goal to finish the game off with a well deserved 3-1 victory.
Team: Chris Palmer, Adam Gittins, Gareth Boyes, Mark Craggs, Jonathan Clegg, Paul Cook, Ryan Stonehouse, Matty Alder (Anth Campbell, 60), Jon Hughes, Chris Jones, David Teder
Subs not Used: David Hall, Warren Richardson, Craig Clark
Next up: Home League Game against 3 Crowns, KO : 10:30am Moore Lane Park (Sunday 10th November)