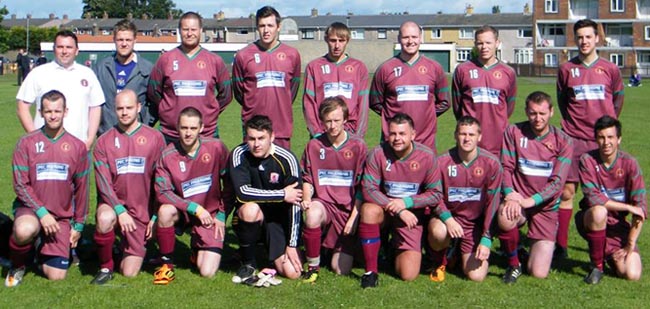 Newton Aycliffe Sports Club 2, Three Crowns 1
By Paul Eales
Newton Aycliffe Sports Club returned to league action with a home win against bottom-of-the-league Darlington Three Crowns at the weekend.
A minutes silence was held as a sign of respec t for Rememberence Sunday prior to kick off.
The Sports Club Kicked off, knowing that the opposition were the only team to take points from them so far this season, so the game started at a high tempo with an attacking formation being played by the home side.
Chase McMullen and Chris Jones were the front two pairing for this game, supported by David Teder (on the Right) and Jon Hughes (the Left).  However, the 3 crowns started the game overcrowding the midfield with 5 players in an effort to quickly counteract the home sides attacking formation.
It was only a piece of bad goalkeeping that led to the first goal of the game, a long through ball saw the Crowns keeper drop and parry the ball out to the oncoming Chase McMullen who slotted home his first goal on his Home Debut to make it 1-0.
More chances fell to Aycliffe with top scorer Chris Jones failing to convert a number of chances to extend the lead.  On 30 minutes, some poor defending from left back Matty Alder saw him give the ball away needlesly to the 3 Crowns Centre Forward who intercepted and slotted the ball home for the equaliser past the oncoming Chris Palmer.
The second half saw a change in formation for the home side, installing Craig Barrigan (replacing Jon Hughes) into the centre midfield along with Paul Cook and Ryan Stonehose, and pushing David Teder further forward to support the attack.  This change saw theAycliffe gain more momentum and dominate the early stages of the 2nd half, but without really making the away side keeper work.  A long range effort from Craig Barrigan glanced the post in what was to be the only really effort of the second half fought mainly in the middle of the park.  Chase McMullen continued to battle through the second half, using his experience to hold the ball up well in the opposition half.  Manager Paul Eales decided to replace david Teder with Craig Clark on the 75 minute mark to try and maintain high energy levels on a pitch that was starting to tear up and become heavy.
With 10 minutes to go, It took an own goal to finish the game off, a through ball from Craig Barrigan somehow got turned into 3 crowns goal by one of their defenders to make it 2-1 to the home side.  Warren Richardson then replaced Man of the Match Chase McMullen for the final 10 minutes which saw the home side grind out the result required to maintain their unbeaten run in the league.   This turned out to be a tough game for the Sports Club against a side who really shouldn't be holding up the league the way they are.
Team: Chris Palmer, Matty Alder, Gareth Boyes, Mark Craggs, Jonathan Clegg, Paul Cook, Ryan Stonehouse, Jon Hughes (Craig Barrigan – 45), David Teder (Craig Clark – 75), Chris Jones, Chase McMullen – MoM (Warren Richardson -80)
Subs not Used: David Hall, Jaimie Hindle
Next up : Home Game against Etherley Dog and Gun (Heart Foundation Cup), KO : 10:30am Moore Lane Park (Sunday 17th November)